So how do you sell $50 million in diamonds?
The gems taken during the well-planned hit may not reach the market immediately, but those uncut stones are like unmarked currency.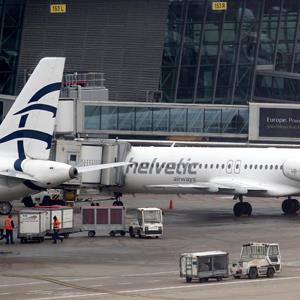 Let's just throw around some hypotheticals and say that you have about
$50 million in diamonds
lying around the house. Let's also say that they were attained by means that, while highly illegal, would put key sequences in "Ocean's 11," "Goodfellas" and "Snatch" to shame.
Now let's say you want to sell that haul. How, exactly, do you go about unloading it all?
If you listen to heist expert and presumed international criminal Zain Asher at underworld heist blog CNNMoney, the folks who boosted a cache of diamonds at an airport (pictured) in Brussels -- by dressing like cops, whipping out machine guns just as the diamonds were being transferred, taking the diamonds without ever firing a shot and torching the getaway van -- just set the blueprint. The key lesson is that if you're going to steal diamonds, make sure they're uncut.
The problem with the polished, sparkly diamonds ready for display cases is that they're not only cut into distinct facets already, but they're also more likely to have a tag etched on with a laser. That makes them infinitely easier to trace back once they hit the secondary market and practically worthless to a crew looking to do something other than fence them on the black market for a steep loss.
The unpolished stones taken on the tarmac in Brussels are the diamond industry's equivalent of unmarked bills. Thieves in the know can have them cut so they're scarcely recognizable and either leach them out to the black market in small quantities or wait a few months, forge some documents of origin and start selling them in the open right under the diamond industry's nose.
But what nefarious, soulless parasites would buy such ill-gotten goods? They're called "investors," and these scared little rabbits will invest in just about any pretty carat plucked out of the earth as long as they can rid themselves of volatile, troublesome U.S. equities. Remember the rush on gold? That was a strip-mall buffet compared to the diamond-market feast being prepared by new funds like the ISE Diamond/Gemstone ETF (GEMS) that lets investors sink money into diamond companies like Harry Winston (HWD) and Signet Jewelers (SIG) without getting too, you know, invested in them.
If those ETFs get a boost from companies purchasing some polished stolen property and carving off a chunk of De Beers' 40% market share, investors will be among the first in line for popcorn once the heist's movie rights get sorted out.

As for the diamond thieves themselves, as long as they play it by the book and don't make flashy purchases that will end up with crew members' bodies being featured in a montage backed by the final strains of Eric Clapton's "Layla," it should be a happy ending for everyone involved. Except maybe international law enforcement and the gems' original owners if they lacked the foresight to take out insurance. Yeah, they'll still be pretty mad.
DATA PROVIDERS
Copyright © 2014 Microsoft. All rights reserved.
Fundamental company data and historical chart data provided by Morningstar Inc. Real-time index quotes and delayed quotes supplied by Morningstar Inc. Quotes delayed by up to 15 minutes, except where indicated otherwise. Fund summary, fund performance and dividend data provided by Morningstar Inc. Analyst recommendations provided by Zacks Investment Research. StockScouter data provided by Verus Analytics. IPO data provided by Hoover's Inc. Index membership data provided by Morningstar Inc.
MARKET UPDATE
[BRIEFING.COM] The stock market began the new trading week on the defensive note with small-cap stocks pacing the retreat. The Russell 2000 (-1.4%) and Nasdaq Composite (-1.1%) displayed relative weakness, while the S&P 500 lost 0.8% with all ten sectors ending in the red.

Global equities began showing some cracks overnight after China's Finance Minister Lou Jiwei poured cold water on hopes for new stimulus measures. Specifically, Mr. Lou said the government has no plans to change ... More
More Market News