JC Penney chief reveals dark side in Macy's lawsuit
Emails from CEO Ron Johnson show a Machiavellian streak in wooing Martha Stewart. Macy's should 'pick up their toys and go home,' he wrote.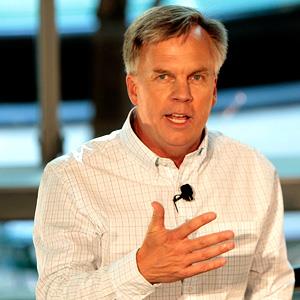 In the first day of Macy's (M) courtroom fight against J.C. Penney (JCP), the real loser appears to be Penney CEO Ron Johnson. 

Macy's is trying to show that Johnson (pictured), a former Apple (AAPL) executive, schemed to lure domestic diva Martha Stewart away from her long-standing merchandising deal with the department store.
Johnson's emails paint him as gloating over his score against Macy's, reports The New York Post. Macy's attorneys are trying to prove that Johnson had a scheme to trick Macy's CEO Terry Lundgren into dropping its Stewart products.
"We put Terry in a corner," Johnson wrote to Bill Ackman, a hedge-fund manager and a major shareholder of Penney's, the day after he announced a $200 million licensing deal with Stewart.
Johnson also appeared to exult over his department-store rival, writing in the same email, "Normally when that happens and you get someone on the defensive they make bad decisions." He added, "This is good."
In another email, he wrote that "the best way to stop Macy's from renewing is to make our offensive so strong they simply pick up their toys and go home," according to The Dallas Morning News. When Johnson wrote that, Stewart's deal with Macy's was coming up for renewal, but Macy's didn't pack up its toys. Instead, it ended up renewing with Stewart through 2018.
Penney and Stewart attorneys countered by saying that Johnson's emails were pulled out of context, and argued in their opening arguments that Macy's contract allows for Penney to legally offer its "store-within-a-stor​e" concept with Stewart's home products. 
Macy's attorneys, meanwhile, allege that Johnson hunted down a copy of Stewart's confidential Macy's contract, despite advice that doing so was illegal, the Post notes. 
So far, it seems Penney's deal with Martha Stewart Living Omnimedia (MSO) has brought more problems than profits. 
Stewart reportedly is insisting that her products for Penney incorporate high-end materials, such as top-quality fabrics, leading some executives to worry the store will lose money on the goods. 
Penney originally planned to sell Stewart's products on March 1, but has pushed that back to May 12. 
DATA PROVIDERS
Copyright © 2014 Microsoft. All rights reserved.
Fundamental company data and historical chart data provided by Morningstar Inc. Real-time index quotes and delayed quotes supplied by Morningstar Inc. Quotes delayed by up to 15 minutes, except where indicated otherwise. Fund summary, fund performance and dividend data provided by Morningstar Inc. Analyst recommendations provided by Zacks Investment Research. StockScouter data provided by Verus Analytics. IPO data provided by Hoover's Inc. Index membership data provided by Morningstar Inc.
MARKET UPDATE
[BRIEFING.COM] S&P futures vs fair value: -5.50. Nasdaq futures vs fair value: -13.00. Nasdaq at... NYSE Adv/Dec 0/0... Nasdaq Adv/Dec 0/0.
More Market News