Oil prices rise on Algerian hostage drama
The country is the No. 4 crude oil producer in Africa. Traders worry about supply issues and political instability in the region.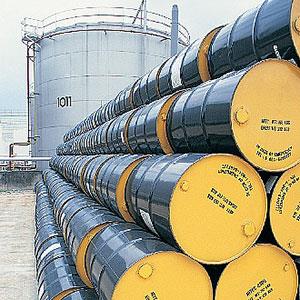 Oil prices hit a four-month high Thursday, propped up by bullish U.S. economic data and worries about supply amid the hostage drama in Algeria.
According to
Bloomberg News
, oil futures for February delivery climbed as high as $95.43 on the New York Mercantile Exchange, the highest intra-day price since Sept. 19. Traders were reacting to
better-than-expected​
housing start data and last week's drop in applications for unemployment benefits, which was the lowest since January 2008, the news service says.
Traders are also worried about political instability in Algeria following reports that six foreign hostages and eight of their captors were killed in a botched rescue attempt at a remote gas plant. Other
reports
say 50 hostages managed to escape. Some hostages continue to be held by gunmen aligned with Mokhtar Belmokhtar, a senior commander of al-Qaeda in the Islamic Maghreb until late last year,
according to the BBC.
According to the
U.S. Energy Information Administration,
Algeria was was the fourth-largest crude oil producer in Africa in 2010 after Nigeria, Angola, and Libya.
Anadarko
(
APC
),
BP
(
BP
) and
ConocoPhilips
(
COP
) are among the foreign firms with investments in the country.  The country also is a leading producer of natural gas.
Of course, the last thing the fragile economic recovery needs is a huge spike in oil prices.

--Jonathan Berr does not own shares of the listed stocks. Follow him on Twitter @jdberr
 
More on Money Now

SO IN OTHER WORDS:
FRANCE ATTACKS AL QAEDA IN NORTHERN MALI . IN RESPONSE, AL QAEDA ATTACKS ALGERIAN BP GAS PLANT WHICH HAD PRODUCED 160,000 BARRELS A DAY. A BOTCHED RESCUE ATTEMPT AT THAT PLANT KILLED 6 FOREIGN HOSTAGES AND 8 CAPTORS. THIS HAS CAUSED POLITICAL INSTABILITY IN ALGERIA DRIVING BARRELS OF OIL TO 95.43 (THE HIGHEST SINCE SEPT. OF 2012). THEREFORE MAKING THE US ANTICIPATE HIGHER GAS PRICES.

Wasn't there another story on here earlier about how the US will be the largest oil producer in the world in 2013, and Saudi Arabi has cut back production because of global over-supply?  So how can a hostage drama in one "remote gas plant", as the story puts it, effect oil futures?  Oh yeah, because we're all being played.

Lower unemployment claims won't translate into higher demand for petroleum. Labor participation rate is only 1 tenth of 1 percent above the all time low set in July and payrolls have not increased, people are losing their benefits. Also take home pay of those working is less as of January 1st. This move is all based on irrational fear about supply that at present is outpacing demand by a wide margin.
Are you sure you want to delete this comment?
DATA PROVIDERS
Copyright © 2014 Microsoft. All rights reserved.
Fundamental company data and historical chart data provided by Morningstar Inc. Real-time index quotes and delayed quotes supplied by Morningstar Inc. Quotes delayed by up to 15 minutes, except where indicated otherwise. Fund summary, fund performance and dividend data provided by Morningstar Inc. Analyst recommendations provided by Zacks Investment Research. StockScouter data provided by Verus Analytics. IPO data provided by Hoover's Inc. Index membership data provided by Morningstar Inc.
MARKET UPDATE
[BRIEFING.COM] Not much change in the major averages as they continue hovering near their lowest levels of the day. The S&P 500 (-0.8%) notched its session low around 12:00 ET and has maintained a seven-point range since then. Meanwhile, the price-weighted Dow Jones Industrial Average (-0.5%) continues trading a little ahead of the benchmark index.

Six Dow components remain in the green, but the leading performer, DuPont (DD 71.75, +0.50), is the only stock showing an increase ... More
More Market News