The Fed won't be putting brakes on yet
Fears are starting to rise that the Fed's low-interest-rate policy could lead to more inflation or to markets that get too frothy. But Fed officials will say they need more evidence to change their policies.
The Federal Reserve will almost certainly leave interest rates alone on Wednesday afternoon. The central bank will almost certainly continue a policy of buying $85 billion a month in government and mortgage bonds to help keep interest rates low.
The only question is when the policy will stop.
If the Fed offers a date certain on when it will stop buying bonds, you can bet the stock market will pause hard to think about what such a decision might mean. The stock market, in fact, may take a good-sized dive because many traders believe the market is overbought anyway.
But don't bet the Fed will say it will stop buying bonds in 2013 when the Federal Open Market Committee, the Fed's policy-making body, announces its policy at 2:15 p.m. ET. Very few economists and money managers see it happening until 2014 at the earliest.
Right now the Fed's policy is to keep interest rates low until: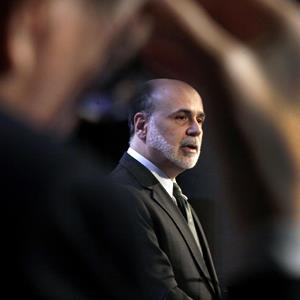 The national unemployment drops to 6.5% or lower.
The expected inflation rate over the subsequent 18 months is a half percentage point above the Fed's 2% long-run goal.
There is a sense that longer-run inflation expectations are starting to spin out of control.
Those thresholds could be reached at any time. The most the Fed will say -- as it has since 2009 -- is that it expects ultra-low interest rates to be in place for "a considerable time."
That's because the economic recovery has been agonizingly slow.
Right now, the unemployment rate is 7.8%. The Fed's definition of inflation puts the rate at 2% or lower. And nobody sees inflation domestically or globally starting to get frothy.
And to get frothy, we're talking something like the late 1970s when higher oil prices and big wage pressure set off a big round of inflation.
How things could get frothy

The risk to the Fed's policy is this: Rates are so low that sooner or later one or more organizations are going to borrow a great deal of very cheap money to do deals. And the deals could go south. Like
Lehman Bros.
, which borrowed billions to lend out to real estate interests and to buy subprime mortgages -- only to see the U.S. residential real estate market collapse.
Add to that risk is the worry that very cheap money will lead to a sudden run-up of prices for assets that produce a bubble. Like oil prices or food prices.
These fears are why the presidents of several Federal Reserve banks have become concerned about the Fed policy, which has been championed by Chairman Ben Bernanke. Jeffrey Lacker, the president of the Richmond Federal Reserve Bank, dissented from all of the Fed's policy decisions for the last year. He also dissented from the Fed's moves in 2009.
He's not a voting member of the Fed this year, but Esther George, president of the Federal Reserve Bank of Kansas City, is a voting member this year and is seen assuming that role. James Bullard, president of the Federal Reserve Bank of St. Louis may also oppose Bernanke's policy.
Did the Fed enable the Apple bubble?

One could argue that the nearly 700% surge in
Apple's
(
AAPL
) stock price between March 2009 and September 2012 was enabled in part because hedge funds could borrow cheaply to buy the stock. And things were splendid until the bubble burst.
There is some chatter that rising bond yields reflects some emerging frothiness. The yield on the 10-year Treasury note settled at 1.998% on Tuesday, after briefly hitting 2% on Monday and Tuesday. The closing yield was the highest since April 2012.
But rising bond yields may also reflect that money is being pulled into the current stock market rally.
As of Tuesday's close, the
Dow Jones industrials
(
$INDU
) were up 6.5% for the month.  Potentially, that's the best January performance for the blue-chip index since 1989, and the Dow is within 46 points of its first close at 14,000 or higher since October 2007 and about 210 below its all-time closing high of 14,164.53, set on Oct. 19, 2007.
The
Standard & Poor's 500 Index
(
$INX
), which closed above 1,500 on Friday for the first time since Nov. 6, 2007, is about 57 points below its record closing high of 1,565.15, also set on Oct. 9, 2007. The index is up 5.7% this month, potentially its best January since 1997.
More on moneyNOW
DATA PROVIDERS
Copyright © 2014 Microsoft. All rights reserved.
Fundamental company data and historical chart data provided by Morningstar Inc. Real-time index quotes and delayed quotes supplied by Morningstar Inc. Quotes delayed by up to 15 minutes, except where indicated otherwise. Fund summary, fund performance and dividend data provided by Morningstar Inc. Analyst recommendations provided by Zacks Investment Research. StockScouter data provided by Verus Analytics. IPO data provided by Hoover's Inc. Index membership data provided by Morningstar Inc.
MARKET UPDATE
[BRIEFING.COM] The stock market finished the Tuesday session on the defensive after spending the entire day in a steady retreat. The S&P 500 (-0.6%) posted its third consecutive decline, while the small-cap Russell 2000 (-0.9%) slipped behind the broader market during afternoon action.

Equity indices were pressured from the start following some overnight developments that weighed on sentiment. The market tried to overcome the early weakness, but could not stage a sustained rebound, ... More
More Market News