Illegal immigrants face deadlier trail to US
Increased security is funneling would-be migrants to remote border areas, where a growing number perish in their attempts to come north.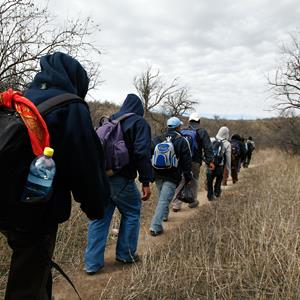 As Congress prepares to grapple with immigration reform and border security, it might want to consider this cruel paradox. The number of migrants attempting to enter the U.S. illegally via Mexico is at its lowest levels in decades, yet the death rate among those migrants is rising as more people try and fail to cross the desolate and remote parts of the border.
The University of Arizona's Binational Migration Institute, working with the Pima County Office of the Medical Examiner in Tucson, has labeled the situation along America's southern border a humanitarian crisis as migrant death rates approach record levels in some areas.
Funding for additional fencing and ramped-up security efforts along much of the nearly 2,000-mile-long U.S.-Mexico border has raised the apprehension rate of undocumented people at some traditional crossing points. The economic downturn has also likely discouraged many would-be migrants from coming to the States.

But the University of Arizona's new report says U.S. border enforcement strategies have also created a funnel effect that's pushing more migrants to try their luck at "extremely remote areas" of Arizona's border with Mexico.
The study looked at more than 2,200 migrant deaths in Arizona over the past two decades. It found the number, when compared with the number of Border Patrol apprehensions of what the study calls "undocumented border crossers," was nearly double in 2011 compared with 2009.
"Although unauthorized migration flows are near 20-year lows in the Tucson sector, the number of deaths has not decreased substantially, but rather has remained near peak highs in the region," Daniel E. Martínez, the study's first author and an assistant professor in the department of sociology at George Washington University, said in a press statement.
Some other findings:
13% of the dead migrants were between ages 10 and 19, while 37% were between 20 and 29.

The percentage of females rose from 13% in the 1990s to 23% between 2000 and 2005. It then went to 16% between 2006 and 2012.

Migrants from countries other than Mexico, mostly from Central America, rose from 9% of all deaths between 2000 and 2005 to 17% in 2006-12.
A leading cause of death was exposure to the elements, although with more decomposed remains being discovered in remote areas, it's often impossible to determine exactly how the people died.
Robin 
Reineke, a doctoral candidate in the School of Anthropology at the University of Arizona and a co-author of the report, notes the dead can give some clues. "We are able to see signs of poverty and economic distress written on
 their bodies," he said, "and represented in the items they are carrying."
Many of the dead were also "young people in the prime of life," noted Bruce Anderson, another report co-author and a forensic anthropologist at the Pima County Office of the Medical Examiner. "They are 
impoverished people coming here in the hopes of supporting their families."
DATA PROVIDERS
Copyright © 2014 Microsoft. All rights reserved.
Fundamental company data and historical chart data provided by Morningstar Inc. Real-time index quotes and delayed quotes supplied by Morningstar Inc. Quotes delayed by up to 15 minutes, except where indicated otherwise. Fund summary, fund performance and dividend data provided by Morningstar Inc. Analyst recommendations provided by Zacks Investment Research. StockScouter data provided by Verus Analytics. IPO data provided by Hoover's Inc. Index membership data provided by Morningstar Inc.
MARKET UPDATE
[BRIEFING.COM] Recent action saw the S&P 500 (+0.1%) slip to a session low, while the Nasdaq Composite (-0.1%) is now in the red.

The tech-heavy Nasdaq has trailed the S&P 500 since the start and has been pressured into negative territory by the continued underperformance of chipmaker stocks. The PHLX Semiconductor Index has widened its loss to 0.8% amid weakness in 29 of its 30 components.

Furthermore, the index has also been pressured by the biotech group, which has ... More
More Market News