Boy Scout show under pressure for gay disclaimer
An Eagle Scout wants News Corp.'s Nat Geo Channel to add a message to a new program that says the organization discriminates against gays.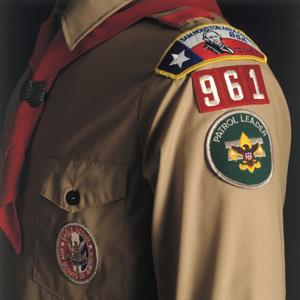 A 20-year old gay college student -- who earned the Boy Scouts' highest rank, the Eagle Scout badge -- is urging News Corp.'s (NWS) Nat Geo Channel to denounce the Boy Scouts' policy of banning gays when it airs "Are You Tougher than a Boy Scout?"

The student, Will Oliver, has gathered more than 3,000 signatures for his petition at Change.org, which urges the network to "speak out now to protect gay youth and leaders like me."
At the heart of the issue is a long-standing policy from the Boy Scouts of America that bans openly gay boys and gay or lesbian adults from volunteering as leaders. Gay rights groups have taken issue with the ban, and President Obama last year said he disagreed with the group's decision to uphold the ban following a two-year review.
"Like several of my early Den mates, I attained the rank of Eagle after a decade of participation in Scouting. I attribute many of my own values today from the lessons taught by the Scouting program: trustworthiness, kindness, bravery," Oliver wrote in the petition. "I also happen to be gay."
Oliver said he came out of the closet after leaving the scouting group, according to the New York Post. 
Oliver argues that he doesn't want Nat Geo to cancel the show, but to add a disclaimer that would "make a strong statement to the BSA's leadership about the grave injustice of their policy."
Nat Geo, which is owned by News Corp.'s Fox Cable Networks division, told the Post it does "not discriminate in any capacity." It added, "[W]e certainly appreciate all points of view on the topic, but when people see our show they will realize it has nothing to do with this debate -- and is, in fact, a competition series between individual scouts and civilians."
A representative for the Boy Scouts of America said the group "values the freedom of everyone to express their opinion."
The show is slated to air this spring.
More on Money Now

You think for being an Eagle Scout and displaying an Eagle Scout badge on his left pocket in addition to being a patrol leader that this scout would wear his council patch correctly. I mean the Boy Scouts are graded at uniform reviews. The council patch is supposed to be on the sleeve and not the shoulder. I think the council patch is sewn onto the sleeve correctly but that the sleeve attaches to the rest of the shirt way to high on the shoulder. You can see the fabric pulling awkwardly around the patch. In addition the neckerchief slide is way too low and sloppy. Someone needs to talk to the scouts of troop 961 in the Sam Houston Council.  If the photo was staged by the news organization, MSN, or the journalist, Aimee Picchi, without researching uniform dress, that just demonstrates poor quality journalism and they have embarrassed troop 961.
Are you sure you want to delete this comment?
DATA PROVIDERS
Copyright © 2014 Microsoft. All rights reserved.
Fundamental company data and historical chart data provided by Morningstar Inc. Real-time index quotes and delayed quotes supplied by Morningstar Inc. Quotes delayed by up to 15 minutes, except where indicated otherwise. Fund summary, fund performance and dividend data provided by Morningstar Inc. Analyst recommendations provided by Zacks Investment Research. StockScouter data provided by Verus Analytics. IPO data provided by Hoover's Inc. Index membership data provided by Morningstar Inc.
MARKET UPDATE
[BRIEFING.COM] S&P futures vs fair value: -6.30. Nasdaq futures vs fair value: -14.80. U.S. equity futures trade hover near their pre-market lows amid cautious action overseas. The S&P 500 futures hover six points below fair value, which puts the benchmark index on track to continue its retreat after losing 0.8% yesterday.

Overnight, markets in Asia traded in mixed fashion, but sentiment worsened after the start of the European session, where all the key indices hold losses ... More
More Market News