75% of world leaders use Twitter
Most heads of states and governments are now using the social media platform to communicate with their citizens and the world.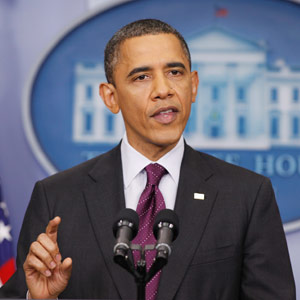 Love it or hate it, but you cannot ignore Twitter.

The micro-blogging platform announced its 500 millionth registered user last year -- making it second only to Facebook in the world of social media. According to MediaBistro.com, Twitter is gaining about 40 million new users every six months, or over 1.5 million each week. 

A new report estimates Twitter's value at around $11 billion, and there are indications an IPO could come by the end of 2013.
Twitter is a global phenomenon. The U.S. may have the largest number of Twitter users, but its popularity in Brazil, Japan, the U.K. and Indonesia are rapidly growing. The Indonesian capital of Jakarta is reportedly the world's No. 1 city by number of Tweets.
With all that in mind, it's little wonder that celebrities use Twitter to get their messages -- or, if you prefer,  brief press releases -- across to their fans. But governments are taking notice, too.
A new report by the Digital Policy Council (DPC) says three out of four heads of state were using Twitter as of last month. Out of 164 countries, 123 world leaders have Twitter accounts either in their name or through official government offices -- an increase of 78% compared to the same time period in 2011.
The Council's Top 10 list of Twittering heads of state contains some expected and surprising names.
President Barack Obama. The president has 24 million followers and added 15 million in one year. This year "was an election year," notes the DPC, "therefore, the Twitter account continued to be managed by the presidential campaign staff." But the president does occasionally post his own tweets -- which he signs with his initials.
Venezuelan President Hugo Chávez. The number of Chavez's Twitter followers increased by 2 million last year. "When he found himself fighting an election campaign from his sick bed in Cuba," says the DPC, "Twitter became his main tool for communicating with the electorate, a tool predominantly used for challenging his opponent and fighting the rampant rumors about his ill-health."

President Abdullah Gül of Turkey. Known as an early adopter of Twitter, Mr. Gul tweets mostly in Turkish but has important statements re-tweeted in English.
Queen Raina of Jordan. The Queen Consort's Twitter account has more than 2 million followers.
Russian Prime Minister Dmitry Medvedev. Medvedev was a new entrant in the 2012 Top 10 list. He has two separate accounts -- one in Russian and one in English. According to the DPC, several other world leaders and governments have accounts in both their native languages and in English "in order to reach a larger audience," including the prime ministers of Kazakhstan, Japan and Thailand and the governments of Serbia and Montenegro.
President Dilma Rouseff of Brazil.
President Cristina Fernández de Kirchner of Argentina.
President Juan Manuel Santos of Colombia.
President Enrique Peña Nieto of Mexico.
Sheikh Mohammed bin Rashid Al Maktoum, Ruler of Dubai and Prime Minister of the United Arab Emirates.
The DPC concludes its report by predicting that, based on current growth rates, nearly all world leaders will have Twitter accounts by the end of this year -- making Twitter "a de facto communication tool for all heads of state."
More on Money Now

Are you sure you want to delete this comment?
DATA PROVIDERS
Copyright © 2014 Microsoft. All rights reserved.
Fundamental company data and historical chart data provided by Morningstar Inc. Real-time index quotes and delayed quotes supplied by Morningstar Inc. Quotes delayed by up to 15 minutes, except where indicated otherwise. Fund summary, fund performance and dividend data provided by Morningstar Inc. Analyst recommendations provided by Zacks Investment Research. StockScouter data provided by Verus Analytics. IPO data provided by Hoover's Inc. Index membership data provided by Morningstar Inc.
MARKET UPDATE
[BRIEFING.COM] The S&P 500 (-0.5%) remains pressured as every uptick has been met with selling activity. This morning, the health care sector (-0.6%) was an early source of weakness in reaction to concerns about the impact of new rules on tax inversion deals.

Over the past 30 minutes, Bloomberg reported that Pfizer (PFE 30.01, -0.17) has approached Actavis (ACT 242.88, +7.02) about a potential acquisition. Actavis, which traded with a slim loss ahead of the reports, has ... More
More Market News