Ben Bernanke's 10 tips for college grads
The Fed chairman offers some life advice -- such as how to find a spouse -- while also dissing economics.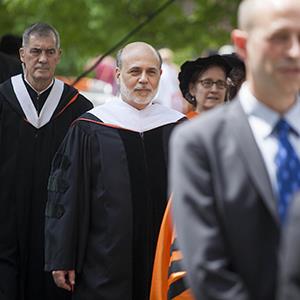 Federal Reserve Chairman Ben Bernanke offered some philosophical and surprising advice to Princeton University graduates on Sunday, including a diss of his own world of economics. 

"Economics is a highly sophisticated field of thought that is superb at explaining to policymakers precisely why the choices they made in the past were wrong. About the future, not so much," Bernanke told the crowd, according to a transcript on Business Insider. (Bernanke was a tenured professor of economics at Princeton from 1996 to 2002.)
That might be surprising to hear from one of the people responsible for guiding the country's monetary policy.

Under Bernanke's leadership, the Fed's response to the financial crisis and recession created a plan to boost the economy by buying Treasurys and mortgage-backed securities. He also supported the rescue of financial companies such as American International Group (AIG). 
But throughout the speech, Bernanke took a down-to-earth approach, joking about his future while keeping mum about where he might go when his second term at the Fed expires in 2014. 
"I wrote recently to inquire about the status of my leave from the university, and the letter I got back began, 'Regrettably, Princeton receives many more qualified applicants for faculty positions than we can accommodate,'" he said. 
He added that a colleague had sent three children to Princeton, a proud accomplishment, but from a financial standpoint, it was like "like buying a new Cadillac every year and then driving it off a cliff."
Bernanke provided 10 broad observations about life, which he pointed out "have nothing whatsoever to do with interest rates." Here's a summary of his words of wisdom:
Life is amazingly unpredictable. No one ends up doing what he or she thought during college. 
It's still important to plan. Consider your life as a "grand, lifelong project." Think about how you'll spend your life and keep developing your abilities.
No system is truly meritocratic. People luckiest in health, family support, income, education and career opportunities have a responsibility to share their luck with others. 
Make the most of your advantages and disadvantages. People who have coped with adversity or made the best use of their advantages are those most worthy of admiration. 
Don't be cynical. "Cynicism is a poor substitute for critical thought and constructive action."
Economics isn't so good at predicting the future. However, it's great at "explaining to policymakers precisely why the choices they made in the past were wrong."
Money is a means, not an end. Make your career decision based on a love for the work or a desire to make a difference. Choosing it for money "is a recipe for unhappiness."
Failing is essential. "If your uniform isn't dirty, you haven't been in the game."
When picking a spouse, look beyond beauty. "The two of you will have a long trip together, I hope, and you will need each other's support and sympathy more times than you can count."
Call your parents. "A time will come when you will want your own grown-up, busy, hyper-successful children to call you. Also, remember who paid your tuition to Princeton."
Follow Aimee Picchi on Twitter at @aimeepicchi. 
DATA PROVIDERS
Copyright © 2014 Microsoft. All rights reserved.
Fundamental company data and historical chart data provided by Morningstar Inc. Real-time index quotes and delayed quotes supplied by Morningstar Inc. Quotes delayed by up to 15 minutes, except where indicated otherwise. Fund summary, fund performance and dividend data provided by Morningstar Inc. Analyst recommendations provided by Zacks Investment Research. StockScouter data provided by Verus Analytics. IPO data provided by Hoover's Inc. Index membership data provided by Morningstar Inc.
MARKET UPDATE
[BRIEFING.COM] S&P futures vs fair value: -5.50. Nasdaq futures vs fair value: -13.00. Nasdaq at... NYSE Adv/Dec 0/0... Nasdaq Adv/Dec 0/0.
More Market News