Waffle House charges 20% security fee
The bill at one location in Atlanta includes a surcharge to keep customers safe.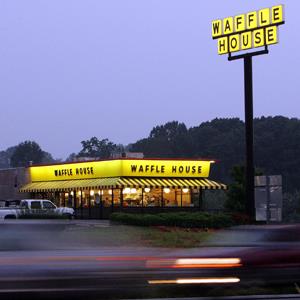 The potential for nefarious activity is so great at one Waffle House that it now charges customers a 20% fee to pay for security.
The surcharge is only at the Waffle House in the Underground Atlanta shopping center, a place so sketchy that Yelp reviewers say
you should only go there
if you're in the mood for a fistfight, a palm reading, fake gold jewelry or an aggressive shakedown for spare change. Don't bring a lot of cash, don't make eye contact with anyone and don't show fear, reviewers advise.
There's only one 24-hour establishment in that shopping area: the Waffle House. Which brings us back to that 20% fee. It helps pay for an off-duty Atlanta police officer to work at the restaurant seven days a week, the company
told
NBC News.
Waffle House tried to put a positive spin on the fee, calling it a "property management surcharge." But that caused some confusion, spokesman Pat Warner told NBC News. So the restaurant decided just to tell it like it is.
Other restaurants might simply roll the security fee into menu prices. But there are so many Waffle Houses in Atlanta that people would surely notice the higher fees at the Underground location, the company told NBC.
About moneyNOW
MoneyNOW brings users smart, original and entertaining takes on the latest business and investing topics that are buzzing on the Web.
MARKET UPDATE
[BRIEFING.COM] Quiet action continues with the S&P 500 once again probing fresh intraday highs. Nine sectors saw corresponding upticks as the benchmark average neared its current levels. The only exception was the utilities sector, which remains near its lows.

The utilities sector has been the subject of some selling in recent weeks. The high-yielding space is down 3.6% this week, and lower by 6.7% so far this month. Nasdaq -12.23 at 3447.19... NYSE Adv/Dec 824/2056... Nasdaq ... More
More Market News