Waffle House charges 20% security fee
The bill at one location in Atlanta includes a surcharge to keep customers safe.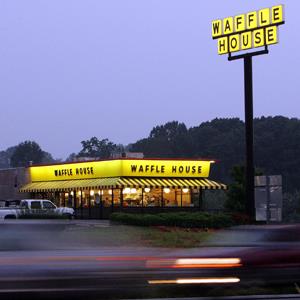 The potential for nefarious activity is so great at one Waffle House that it now charges customers a 20% fee to pay for security.
The surcharge is only at the Waffle House in the Underground Atlanta shopping center, a place so sketchy that Yelp reviewers say
you should only go there
if you're in the mood for a fistfight, a palm reading, fake gold jewelry or an aggressive shakedown for spare change. Don't bring a lot of cash, don't make eye contact with anyone and don't show fear, reviewers advise.
There's only one 24-hour establishment in that shopping area: the Waffle House. Which brings us back to that 20% fee. It helps pay for an off-duty Atlanta police officer to work at the restaurant seven days a week, the company
told
NBC News.
Waffle House tried to put a positive spin on the fee, calling it a "property management surcharge." But that caused some confusion, spokesman Pat Warner told NBC News. So the restaurant decided just to tell it like it is.
Other restaurants might simply roll the security fee into menu prices. But there are so many Waffle Houses in Atlanta that people would surely notice the higher fees at the Underground location, the company told NBC.
MARKET UPDATE
[BRIEFING.COM] Stocks ended modestly higher as the S&P 500 climbed 0.2%, and the Dow added 0.4% to register its 19th consecutive Tuesday of gains.

The major averages saw little change during morning action, but afternoon buying interest helped lift the indices to session highs. Most cyclical sectors (with the exception of materials and technology) finished among the leaders, but the defensively-geared health care sector settled atop the leaderboard as biotechnology outperformed. ... More
More Market News
TOP STOCKS
S&P 500 forecast to hit 2,100 by 2015
As the stock market reaches new highs, Goldman Sachs sees more gains ahead. Fueling the market: An improving economy, growing dividends and low interest rates.