Should cities sell heirlooms to pay bills?
As Detroit debates the question regarding its treasured art museum, many cash-strapped municipalities are facing similar hard choices.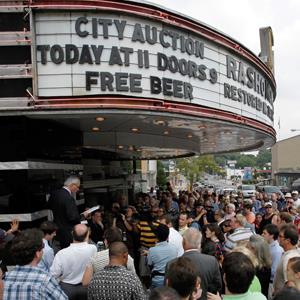 Does it make sense for cities with severe budget problems to auction off prized municipal assets? Or in doing so, do they risk selling the very things that help make them viable, interesting and unique?
That's the question under debate in Detroit, which is teetering on the edge of bankruptcy. Some Motor City officials have come under fire for suggesting the city-owned Detroit Institute of Arts sell off some of its famous multibillion-dollar collection to help relieve some of its hometown's crushing economic burden and to pay for basic services.
Since the start of the global recession, cities all over the U.S., and indeed the world, have been acting like a cash-strapped couple wondering whether they should part with a valuable heirloom to help pay the monthly mortgage bill.
In 2010, Newark, N.J., sold 16 buildings, including its police and fire headquarters and the city's symphony hall, to deal with an $80 million budget deficit. Now it's leasing back some of those buildings from their new owners. Late last year, Baltimore agreed to sell its historic Senator Theatre (pictured) over the objections of the city's comptroller and at a substantial loss.

And earlier this year the city of Dijon, the capital of France's famous Burgundy wine region, auctioned off half of its coveted municipal wine cellar to help pay for local social programs.
Sometimes these asset fire sales can backfire. In 2008, Chicago's then-mayor Richard Daley signed a 75-year lease on the city's parking meters for $1.2 billion to an international partnership led by Morgan Stanley (MS).

But as Matt Taibbi reported in Rolling Stone, not only did the deal deprive Chicago of revenue from its widespread parking-meter system, but it also did little to alleviate the city's budget shortfall. And he notes that in some Chicago neighborhoods, "the meter rates went from 25 cents an hour to $1 an hour in the first year of the deal, and then to $1.20 after that."

Critics of such municipal sales worry that local governments letting go of long-term valuable assets in exchange for a one-time payment are shortchanging themselves.
"This is tantamount to selling the family china, only to have to rent it back in order to eat dinner," economist Yves Smith, the author of the blog Naked Capitalism, told The Associated Press in 2010.
Art and its value are, of course, in the eyes of the beholders, so the issue of art collections can be tricky. But the defenders of the Detroit Institute of Arts are preparing for a long legal battle, if necessary, to keep their priceless collection intact.

"We are standing by our contention and belief that we hold the collection in trust for the public," DIA executive Vice President Annmarie Erickson told the Detroit Free Press.
DATA PROVIDERS
Copyright © 2014 Microsoft. All rights reserved.
Fundamental company data and historical chart data provided by Morningstar Inc. Real-time index quotes and delayed quotes supplied by Morningstar Inc. Quotes delayed by up to 15 minutes, except where indicated otherwise. Fund summary, fund performance and dividend data provided by Morningstar Inc. Analyst recommendations provided by Zacks Investment Research. StockScouter data provided by Verus Analytics. IPO data provided by Hoover's Inc. Index membership data provided by Morningstar Inc.
MARKET UPDATE
[BRIEFING.COM] The stock market finished an upbeat week on a mixed note. The S&P 500 shed less than a point, ending the week higher by 1.3%, while the Dow Jones Industrial Average (+0.1%) cemented a 1.7% advance for the week. High-beta names underperformed, which weighed on the Nasdaq Composite (-0.3%) and the Russell 2000 (-1.3%).

Equity indices displayed strength in the early going with the S&P 500 tagging the 2,019 level during the opening 30 minutes of the action. However, ... More
More Market News