Nail-biting trip shorts out Tesla stock
Share prices plummet after a New York Times reporter's Model S loses heat and power on Interstate 95 and gets towed to a charging station.
Interstate 95 in the nation's Northeast Corridor is a choked, pitted, dizzying urban labyrinth as unforgiving as it is ugly. Its winters are as cold and hardened as the hearts of the drivers who brave it and are ill suited to fragile, temperate souls from sunnier states.
Tesla (TSLA) discovered this the hard way.
Shares of the electric car maker dropped nearly 4% after
New York Times
writer John Broder tried to drive its $101,000 Model S from the Washington, D.C., suburbs to a supercharger station in Milford, Conn., and around New England to test its proclaimed 265-mile range.
Broder made the nail-biting trip to Milford, but after recharging, he lost energy in temperatures flirting with 10 degrees, lost heat when the car tried to conserve its remaining energy and, eventually, had his powerless Tesla towed back to Milford after a quick tour of Connecticut.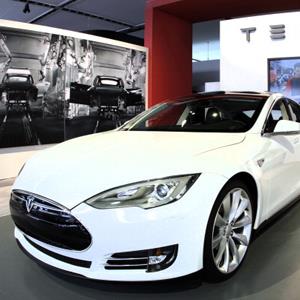 The consequences have been far more dire than just a frozen and put-upon reporter. Tesla received a $465 million loan from the Department of Energy in 2010 to build its vehicles and support infrastructure and reduce American dependence on foreign oil. Tesla already has plans to produce 20,000 Model S vehicles by the end of the year.
That's just fine if you're driving along Interstate 5 from British Columbia to California, where The Oregonian says regional governments are putting the finishing touches on a series of quick charging stations. When completed, the so-called West Coast Electric Highway will allow electric vehicle owners to juice up every 25 to 60 miles whether they're driving a Tesla, a Nissan (NSANY) Leaf, a Chevy (GM) Volt or a Ford (F) or Toyota (TM) plug-in hybrid.
By comparison, the stretch of I-95 from D.C. to Boston has exactly two such stations in Milford and Newark, Del. Both of those stations just opened in December and, judging by the Times article, seemed insufficient to handle the demands of a Northeast winter far colder than anything faced regularly by drivers in California and the Pacific Northwest. That cold puts a hurt on battery capacity and diminishes range, making it much harder to limp from Delaware to Connecticut. Factor in the hour it takes drivers to reach a full charge at each stop, and drivers are tacking on an additional two hours to their trip under even the best conditions.
Analysts see it differently. According to StreetInsider.com, the folks at Jefferies & Co. blame Broder for his Tesla's woes and say "improper charging protocol" led to the Model S' problems. Just ahead of Tesla's fourth-quarter earnings release, Jefferies says the vast majority of Model S buyers are "very impressed."
It didn't note where those drivers live, however, and didn't reveal whether those drivers regularly take the Garden State or Merritt parkways to avoid I-95. Also, how is "improper charging protocol" not a problem? When you're asking a driving public conditioned on 10-minute pump-and-go stops to completely change their way of thinking and driving to accommodate your vehicle, a little margin for error doesn't seem like a big request.
More on moneyNOW
DATA PROVIDERS
Copyright © 2014 Microsoft. All rights reserved.
Fundamental company data and historical chart data provided by Morningstar Inc. Real-time index quotes and delayed quotes supplied by Morningstar Inc. Quotes delayed by up to 15 minutes, except where indicated otherwise. Fund summary, fund performance and dividend data provided by Morningstar Inc. Analyst recommendations provided by Zacks Investment Research. StockScouter data provided by Verus Analytics. IPO data provided by Hoover's Inc. Index membership data provided by Morningstar Inc.
MARKET UPDATE
[BRIEFING.COM] The stock market finished an upbeat week on a mixed note. The S&P 500 shed less than a point, ending the week higher by 1.3%, while the Dow Jones Industrial Average (+0.1%) cemented a 1.7% advance for the week. High-beta names underperformed, which weighed on the Nasdaq Composite (-0.3%) and the Russell 2000 (-1.3%).

Equity indices displayed strength in the early going with the S&P 500 tagging the 2,019 level during the opening 30 minutes of the action. However, ... More
More Market News