The disgusting ingredient in Gatorade
A petition against brominated vegetable oil found in Gatorade adds to bad beverage news for consumers.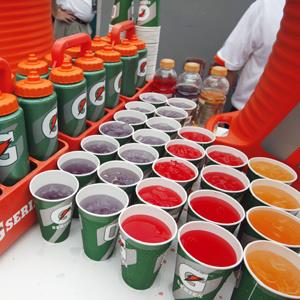 Today's entry on the list of Terrible Things You're Drinking: Flame retardant.
Thank a Change.org petition circulated by 15-year-old Sarah Kavanagh of Hattiesburg, Miss., for reminding everyone that PepsiCo (PEP) product Gatorade -- along with 10% of other drinks sold in the U.S. -- contains brominated vegetable oil (BVO).

It's supposed to keep the flavors in citrus drinks from separating into orange-tangerine-gra​pefruit slick floating atop a bed of seltzer, but it's so named because it contains bromine, which is the same element found in the flame retardant used on upholstery and children's items like pajamas. How refreshingly noncombustible.
It's just the latest bit of bad news for the the American convenience store drinker this year. Already, tallboy cans of Monster Energy (MNST) faced scrutiny in a lawsuit filed after a 14-year-old Maryland girl died last year from heart problems after drinking the sugar-packed beverage on two consecutive days. Monster's pint-sized competitor, 5-Hour Energy, drew similar criticism last month when its high levels of B vitamins and the amino acid taurine were cited in 13 reports of drink-related deaths submitted to the Food and Drug Administration.
Back in March, the Los Angeles Times reported that the Center for Science in the Public Interest found high levels of 4-methylimidazole, an animal carcinogen, in Coca-Cola (KO) and Pepsi products, though the FDA disputes the claim. Both of those companies are fans of BVO, as PepsiCo adds it to both Gatorade and Mountain Dew, while Coca-Cola puts it in Powerade, Fresca and Fanta Orange. and Dr. Pepper Snapple Group (DPS), for its part, uses BVO in Squirt and some Sunkist brands.
As with the chemicals in the drinks above, the bromine found in BVO creates its share of problems once ingested. When used in flame retardants, research has found that it can build up in both the body and breast milk. Studies link that buildup to neurological disorders, reduced fertility, hormonal changes and advanced puberty.
Brominated vegetable oil has been linked to short term issues, including cramping, blurred vison, teariness, vomiting and cyanosis (that's right, it can turn your skin blue), but it also  lets bromine build up in fatty tissues. In rats, this leads to heart lesions. In humans, it's been associated with memory loss, birth defects and growth problems. An article in Scientific American found that video game players who chug mass quantities of Mountain Dew and other BVO-laden drinks to keep their edge wind up with skin lesions, nerve disorders and memory loss.
BVO's beverage use and potential dangers aren't exactly breaking news. A Yahoo columnist  typed out a screed against it four years ago, while regulators have been less than enthusiastic about its use for decades. According to the New York Times, the Flavor and Extract Manufacturers Association revoked approval of BVO in 1970 after its studies couldn't definitively prove it was safe. In 1977 the FDA ruled that BVO up to 15 parts per million was safe for use in fruit-flavored beverages, but stressed that the approval was a temporary measure pending further study. By comparison, wood rosin is a approved for the same purpose at 100 parts per million.
Nearly four decades later, those studies haven't happened because, as its spokeswoman says, they "would require an expenditure of FDA's limited resources, which is not a public health protection priority for the agency at this time." Meanwhile, the European Union has banned its use in food and Japan is moving in the same direction.
Even if the FDA can't scrape up enough spare change to consider similar action, beverage companies might be swayed to act on their own. Back in February, McDonald's (MCD) and other companies stopped making burgers out of meat bits treated with ammonium hydroxide -- better known as "pink slime." Starbucks (SBUX) stopped using dye made of acid extracted from cochineal bugs as its pink food coloring in April after being pressured by a Change.org petition similar to Kavanagh's.
Perhaps one day a thirsty consumer will be able to open a store's cooler and not have to worry about drinking a bottle or can full of potential lesions. Until then, even dubious tap water is less costly than playing Russian roulette with the colorfully packaged chemicals in the drink aisle.
More from Money Now
DATA PROVIDERS
Copyright © 2014 Microsoft. All rights reserved.
Fundamental company data and historical chart data provided by Morningstar Inc. Real-time index quotes and delayed quotes supplied by Morningstar Inc. Quotes delayed by up to 15 minutes, except where indicated otherwise. Fund summary, fund performance and dividend data provided by Morningstar Inc. Analyst recommendations provided by Zacks Investment Research. StockScouter data provided by Verus Analytics. IPO data provided by Hoover's Inc. Index membership data provided by Morningstar Inc.
MARKET UPDATE
[BRIEFING.COM] S&P futures vs fair value: -6.60. Nasdaq futures vs fair value: -14.50. The S&P 500 futures trade seven points below fair value.

Markets across most of Asia ended on a lower note, while Japan's Nikkei was closed for Autumn Equinox.

Economic data was limited:

China's HSBC Manufacturing PMI ticked up to 50.5 from 50.2 (expected 50.0)
Singapore's CPI eased to 0.9% year-over-year (expected 1.2%; previous ... More
More Market News