Private donors step up to fund gun buybacks
Companies and individuals are helping financially strapped communities hold cash-for-firearms events. But the number of weapons turned in is still just a drop in the bucket.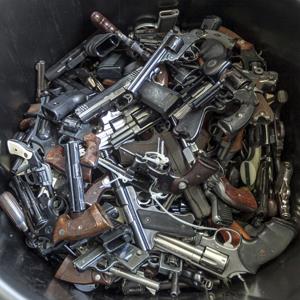 There's been a noticeable increase in the number of gun buyback programs recently after the horrific shootings at Sandy Hook Elementary School in Connecticut.

Many local communities, police forces and municipalities, still struggling with the economic downturn, have had trouble juggling their budgets to find funding for such events. But it appears that private donors are stepping up to fill the financial void, giving these cash-for-guns programs further momentum.
A recent buyback event in Bridgeport, Conn. -- not far from Sandy Hook -- was funded completely by $130,000 in private donations. CNN reports the Bridgeport government buyback program, subsidized by the city's housing authority, was cancelled in 2011 due to a lack of funds.

But in the wake of Sandy Hook, the donations poured in from local businesses, organizations and private businesses.

"Gun buyback programs have taken place before," one organizer, Vincent Santinelli, told
WTNH-TV
. "The funds have been exhausted, so now, more than ever, it's time to really step up."
Guns-for-cash events in Oakland and San Francisco, meanwhile, were funded by several non-profit organizations -- including a $100,000 donation from a local medical marijuana dispensary.

"It's part of the philosophy we practice called capitalism with a conscience," Keith Stephenson, the director of Oakland's Purple Heart Patient Center, told the San Francisco Chronicle.
New Albany, Ind., recently held a gun buyback event funded, according to the city's web site, by private donations and "money appropriated for quality of life initiatives."
Officials in Lansing, Mich., are re-launching a $10,000 gun buyback program completely through tax-deductable donations.
And Amazon (AMZN) recently donated $30,000 in gift cards to a gun buyback program in its hometown of Seattle -- part of $100,000 in private funds that have been given to the program, according to Business Insider.
But for all the good intentions, few people believe gun buyback programs alone will end gun violence.

A 2004 study by the National Research Council says most of the guns typically found at buyback events are old and malfunctioning -- or owned by individuals "who derive little value" from their possession, such as those who inherited guns. It also notes that replacement weapons are easily obtained and that armed criminals are unlikely to take part in such programs.
Mother Jones estimates nearly 5,700 guns were turned in at 27 post-Sandy Hook gun buyback events. But given civilians in the U.S. own an estimated 270 million guns, the buybacks are at best an optimistic start.

"Unfortunately, we'll still run out of money before we run out of guns," Oakland Police Capt. Ersie Joyner told the San Francisco Chronicle at his city's recent buyback event. 

More on Money Now


I'm not seeing any assault rifles in this mix of weapons.  These purchases do little good in removing the most dangerous firearms.  AR-15s and their like must be eliminated from private hands, just as we would not want hand grenades, RPGs, bazookas and flamethrowers among the civilian population.  Also out of place are gun clips that hold enough ammo to decimate a school room full of children in seconds.  Let's leave the battlefield type stuff to the battlefield and not in our neighborhoods.

Are you sure you want to delete this comment?
DATA PROVIDERS
Copyright © 2014 Microsoft. All rights reserved.
Fundamental company data and historical chart data provided by Morningstar Inc. Real-time index quotes and delayed quotes supplied by Morningstar Inc. Quotes delayed by up to 15 minutes, except where indicated otherwise. Fund summary, fund performance and dividend data provided by Morningstar Inc. Analyst recommendations provided by Zacks Investment Research. StockScouter data provided by Verus Analytics. IPO data provided by Hoover's Inc. Index membership data provided by Morningstar Inc.
MARKET UPDATE
[BRIEFING.COM] In case anyone needed a reminder how beholden the stock market has gotten to the Fed keeping rates at the zero bound, they were offered one today when the major indices pretty much turned on a dime following a report out of The Wall Street Journal's Fed watcher, Jon Hilsenrath, that suggested the Fed may very well keep the "considerable period" language in tomorrow's directive.

Following the Fed is an exasperating study of semantics, yet no one but the Fed is to ... More
More Market News