Gun sales jump as Obama eyes restrictions
Business could not be better for the gun industry lately, and it's preparing for a tough fight against proposals the president laid out Wednesday.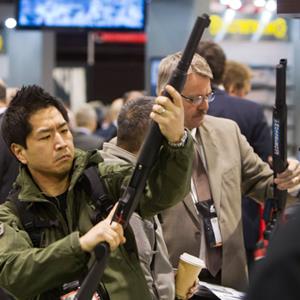 President Obama knows he's taking on a formidable opponent in the gun industry. It's well funded, vocal, intensely popular with many Americans and growing quickly.
Guns have become a huge business in America, and sales lately have been through the roof as enthusiasts worried their rights would be compromised. Gun stores
report
lines out the door and low supplies, and shoppers report
examples
of price gouging on high demand.
It's hard to pin down the number of guns sold lately, since gun makers don't report unit sales. And it's tough to rely on the number of FBI background checks, since a reported 40% of gun sales are made with no background check at all.
But you can look at the rising number of background checks lately as an indication of momentum, and that momentum appears very strong indeed. The FBI said its instant background check system processed 2.8 million requests last month, almost 1 million more than a year earlier. Some of the largest increases took place in New Hampshire, Rhode Island, Virginia, Oregon and Alaska,
according to
the Governing website.
Investors seem to have no worries about the gun industry. Shares of the two major gun makers were jumping Wednesday after Obama's call for sweeping gun control measures. The stock price of
Smith & Wesson Holding Corp.
(
SWHC
) rose more than 4% to $8.79. Shares of
Sturm Ruger & Co.
(
RGR
) rose 4% to $49.92.
Would investors be betting so heavily on a decelerating industry? Of course not, and Wall Street has thus sent its verdict to Obama: Your proposals are not happening.
The National Rifle Association came out swinging even before Obama unveiled a
list of 23 executive actions
he thinks will cut gun violence. At the NRAStandandFight
website
, the association unveiled a video Tuesday calling Obama an "elitist hypocrite" because his children are protected by armed guards.
reports
, with 250,000 people joining the 4.25 million existing members.
Obama recognized the battle ahead, and tried to appeal to Republicans in his speech by invoking former president Ronald Reagan, who supported a ban on assault weapons in 1994. That ban expired in 2004 and was never renewed.
Obama said that implementing his proposals will be difficult. He added that pundits, lawmakers and lobbyists will warn Americans of a "tyrannical all-out assault on liberty" in order to gin up fear or higher ratings or more revenue.
"The only way we can change is if the American people demand it," he said, urging people to call their Congressional lawmakers. "Along with our freedom to live our lives as we will comes an obligation to allow others to do the same. We don't live in isolation. We live in a society."
The NRA, for its part, is promising to give Obama "the fight of the century," according to the Washington Post. In a fund-raising letter to the group's members, association executive Wayne LaPierre had this to say: "It's not about protecting your children. It's not about stopping crime. It's about banning your guns. . . PERIOD!"
More on Money Now
DATA PROVIDERS
Copyright © 2014 Microsoft. All rights reserved.
Fundamental company data and historical chart data provided by Morningstar Inc. Real-time index quotes and delayed quotes supplied by Morningstar Inc. Quotes delayed by up to 15 minutes, except where indicated otherwise. Fund summary, fund performance and dividend data provided by Morningstar Inc. Analyst recommendations provided by Zacks Investment Research. StockScouter data provided by Verus Analytics. IPO data provided by Hoover's Inc. Index membership data provided by Morningstar Inc.
MARKET UPDATE
[BRIEFING.COM] The S&P 500 (-0.5%) remains pressured as every uptick has been met with selling activity. This morning, the health care sector (-0.6%) was an early source of weakness in reaction to concerns about the impact of new rules on tax inversion deals.

Over the past 30 minutes, Bloomberg reported that Pfizer (PFE 30.01, -0.17) has approached Actavis (ACT 242.88, +7.02) about a potential acquisition. Actavis, which traded with a slim loss ahead of the reports, has ... More
More Market News