Theaters bend rules for smartphone addicts
After years of battling mobile devices, some venues are finally encouraging their use.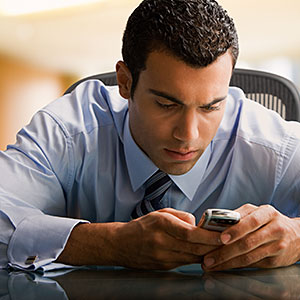 The sad reality in this digital age is that it can be tough to part with your phone for two hours. Even for amazing theater performances.
Theaters have been battling rogue texters and Facebookers for years, and many are just tired of fighting the good fight. So some are now giving in and introducing "tweet seats" where the audience is actually encouraged to watch with a phone in one hand.
The Guthrie Theater in Minneapolis is the latest to offer special seats for smartphone users. The $15 seats are only available for certain performances and are on the balcony level, away from the view of other patrons, Minnesota Public Radio
reports
.
More theaters are setting aside tickets for phone users, recognizing that allowing someone to chronicle a theater performance in real time for hundreds of friends also represents a fantastic marketing opportunity.
"Coast to coast, theaters are experimenting with how to use 'tweet seats' effectively," Rick Dildine, the executive director for Shakespeare Festival St. Louis,
told
USA Today. "The arts are evolving right now, they are participatory. . . Social media is a tool we rely on, and we have been unafraid to experiment with it."
Tweeting during an opera has even been allowed. The public relations manager from Goodspeed Opera House told USA Today that it was "sort of an enhancement" because it allowed audience members to interact during a show.
A new theater under construction in Bellevue, Wash., is already promising open tweeting. The 2,000-seat concert hall will have a "laissez-faire phone policy," Time
reports
. One reason? It wants to attract younger visitors.
Once this becomes standard policy at theaters, will movie theaters become more open to the idea?
More from Money Now


This is fine as long as the theater gives me the $15 to sit with these people rather than expect me to pay for a ticket. Whatever the marketing value to the venue, the fact is that these simpletons are watching a performance in a public venue, not playing a dvd in their living room. There is no way that cell phones should be allowed (forget the silly tag smartphone) in any public performance where they will by definition interfere with any fee paying patron's enjoyment of the show.

Went to the ballet a while back, and witnessed someone video taping the entire "premier" performance on their smart phone and emailing the entire thing to someone else.  Now, I believe the person doing so was sitting in complimentary seats so their tickets were provided by the ballet company, and they were using those free tickets to pirate the performance even though the audience was expressly told not to do so.  This was probably at the request and with the full knowledge of one of the dancers who provided the free tickets.  Do you think that all the other people who worked hard on that show appreciated their efforts being emailed all over town?  I don't.  It was rude and distracting to have that person doing that directly in front of me, disrespectful to the ballet company that provided the free tickets, and lessens the value for the entire cast.  That what I think of allowing smart phones in to theater and other performances.  They are rude, selfish, and ignorant.  They don't mind ruining it for others and stealing valued performance art.   If you want to know why I didn't speak up, when I witnessed it, I can tell you that I did.  The woman lied, but she wasn't believed.  Cell phones should be banned.  It's not just the phones, it's the people using them.


The funny thing about people is that even though they are doing something completely rude and obnoxious, they will:
1. Rarely Admit it ..
and 2. Be very quick to call someone else out for being rude..
for instance, Miami drivers who go straight thru stop signs, then flip you the bird when you honk at them.
Will these rude people be polite enough to pay extra to sit in seats with other rude people, I hope so, but probably not.

I highly doubt people will be willing to pay the extra cost just so they can tweet during the movie. I see people texting and tweeting in movie theaters all the time, regardless of the ads telling them not to. Also how does the theater intend to punish those who decide to pull their phone out when they aren't in the specially marked seats?
Are you sure you want to delete this comment?
DATA PROVIDERS
Copyright © 2014 Microsoft. All rights reserved.
Fundamental company data and historical chart data provided by Morningstar Inc. Real-time index quotes and delayed quotes supplied by Morningstar Inc. Quotes delayed by up to 15 minutes, except where indicated otherwise. Fund summary, fund performance and dividend data provided by Morningstar Inc. Analyst recommendations provided by Zacks Investment Research. StockScouter data provided by Verus Analytics. IPO data provided by Hoover's Inc. Index membership data provided by Morningstar Inc.
MARKET UPDATE
[BRIEFING.COM] The stock market finished an upbeat week on a mixed note. The S&P 500 shed less than a point, ending the week higher by 1.3%, while the Dow Jones Industrial Average (+0.1%) cemented a 1.7% advance for the week. High-beta names underperformed, which weighed on the Nasdaq Composite (-0.3%) and the Russell 2000 (-1.3%).

Equity indices displayed strength in the early going with the S&P 500 tagging the 2,019 level during the opening 30 minutes of the action. However, ... More
More Market News