Why are student loan rates so high?
Some people scoffed at Sen. Elizabeth Warren's proposal to cut them, but it's worth debating why grads aren't benefiting the way homebuyers are.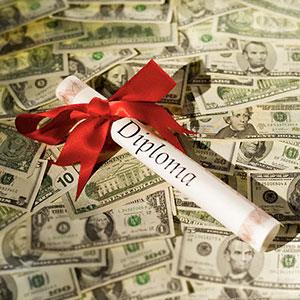 Some people rolled their eyes last week when Sen. Elizabeth Warren, D-Mass., proposed giving students a big break. She says college students who take on loans should pay the same ultralow interest rate the Federal Reserve charges banks. 

Right now, college graduates pay 3.4% on federally subsidized Stafford loans, but that amount is set to double this summer. (And those rates were set by Congress more than a decade ago, when rates were higher than today's.) For parents taking out private loans, the rate is even worse, at 7.9%, according to BloombergBusinesswee​k.
Meanwhile, the Federal Reserve discount rate is just 0.75%. 
The Fed's low rate has helped many Americans weather the recession. The accessibility of cheap debt has boosted home and auto buying as consumers have sought to lock in low refinancing rates or purchase a new home or a new Ford (F), for instance. 
So why aren't college students benefiting from the same trends? While some people may scoff at Warren's proposal, it's worth debating. 
Student loan debt is seen as a growing crisis. The thinking is that today's graduates won't be able to buy their first homes -- even at rock-bottom mortgage rates -- because they're too hamstrung by paying off their college debts at relatively high interest rates. 
Average student debt for the class of 2011 rose by 5.3% to $26,600, according to the Project on Student Debt. Total student loan debt exceeds $1 trillion. 
"There's this anxiety: What if I decided I wanted to get married or have children?" Shane Gill, 33, told The New York Times. He doesn't own a home or a car, and he isn't married. He also owes about $45,000 in federal student loans. 
"I don't know how I would. And that adds to the sense of precariousness. There's a persistent, buzzing kind of toothache around it," Gill said. 
While the median age for a first home purchase is about 30, student loan debt may be causing some people to delay homeownership. The Federal Reserve Bank of New York said last month that homeownership among 30-year-olds with a history of student debt fell by more than 10 percentage points during the recession. 
Warren isn't likely to succeed in her plan to get student loan rates as low as she'd like. One reason rates are higher than those for mortgages and car loans is that bachelor's degrees aren't tied to physical assets. If a student defaults, for instance, her diploma isn't actually something a lender can repossess. 
Despite that, it's worth asking whether students and their families should be socked with rates as high as they are. 
Follow Aimee Picchi on Twitter at @aimeepicchi.
The true dirty little secret to higher education.  The easier and more money available to "students" does not buy one more dime of education.  Universities and Colleges raise their fees and tuition to suck every additional dollar.  So you are never getting more education for your dollar -- only more debt to go along with your education

I finished my BA in 2005. I paid off my loans in under 2 years. My rate was at 2.6%. I went back to school for my masters degree in 2008. My rate is now at 6.25%. In July 2012 I purchased my first home with a rate at 3.25% (soft second loan program)... I do NOT buy this line of "Your degree is not tied to a physical asset." My BA loans from 2001-2005 had NO physical asset and the rate was WAY lower than I'm paying now. With loan rates SO low, students should be able to take advantage of the rates being afforded to home/car loans and be offered a chance to refinance. I don't care what political party you belong to or align with financially or personally... All I know is this rate issue is a problem our elected officials need to tackle ASAP. I also want to say thank you to Elizabeth Warren. I am proud to have recently moved from Florida to Massachusetts and have you as my elected representative. You may not be fighting a popular fight amongst your peers in Washington but you are holding true to your campaign promises. Keep up the fight!

Try putting your daughter through medical school.  When she starts residency (at a salary of $40,000 per year)  her student debt at $250,000 will require her to pay about $19,750 each year just to pay interest and keep her principal from rising.  Obviously she can't pay more than half of her after-tax salary on interest and still have enough to live on.  In addition the IRS limits tax deductions on student loan interest to $2,500 per year.  No wonder there is a coming shortage of general practice physicians.   The government needs to step up and stop making this a profit center. 
Are you sure you want to delete this comment?
DATA PROVIDERS
Copyright © 2014 Microsoft. All rights reserved.
Fundamental company data and historical chart data provided by Morningstar Inc. Real-time index quotes and delayed quotes supplied by Morningstar Inc. Quotes delayed by up to 15 minutes, except where indicated otherwise. Fund summary, fund performance and dividend data provided by Morningstar Inc. Analyst recommendations provided by Zacks Investment Research. StockScouter data provided by Verus Analytics. IPO data provided by Hoover's Inc. Index membership data provided by Morningstar Inc.
MARKET UPDATE
[BRIEFING.COM] The stock market finished an upbeat week on a mixed note. The S&P 500 shed less than a point, ending the week higher by 1.3%, while the Dow Jones Industrial Average (+0.1%) cemented a 1.7% advance for the week. High-beta names underperformed, which weighed on the Nasdaq Composite (-0.3%) and the Russell 2000 (-1.3%).

Equity indices displayed strength in the early going with the S&P 500 tagging the 2,019 level during the opening 30 minutes of the action. However, ... More
More Market News