New York's cult grocery is now a hot IPO
Much loved in and around the Big Apple, Fairway may be coming to a town near you after its successful stock sale.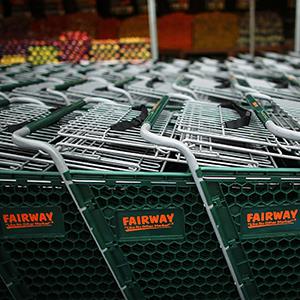 While Fairway (FWM) supermarket might not mean anything to most Americans, it has gained a cult following in the New York City area for its gourmet foods and low prices. 

That devotion has helped kick off one of this year's most successful initial public offerings, with the company selling shares for the first time Tuesday. In its first day of trading Wednesday, the stock surged as much 42%. 
What's the big deal about a supermarket chain? As any New Yorker will tell you, it's all about this store's combination of great food and low prices, providing the wide selection of Whole Foods (WFM) with Trader Joe's reasonable cost.
It's also just fun to shop there. As the company described in an unusually poetic style for a regulatory filing:
"Our stores provide a sensory experience, including aromas of fresh coffee roasts and freshly baked bread, an array of vibrant colors across our produce displays, cheese experts describing selections of our over 600 artisanal cheeses, samples of our approximately 100 varieties of olive oil and free tastings of our delicious prepared foods."
With the stock sale, Fairway was assigned a market value of $536 million at its opening price of $13 a share, according to Bloomberg.
Yet with only 12 locations around the New York area, that's a rather heady market value for a still-small chain. It gives the grocer a richer value than bigger rivals such as Safeway (SWY). While Safeway trades at 5.2 adjusted earnings before interest, taxes, depreciation and amortization, Fairway is trading at about 15 times EBITDA. 
It's also facing tough competition on a number of fronts, with Wal-Mart (WMT) and Target (TGT) muscling into the grocery business. 
Fairway isn't content to remain a New York-area chain, however. The company wants to expand into big metropolitan markets and has indicated it may grow to 90 stores in the Northeast and add 300 locations across the country, according to its registration statement. 
Sales at Fairway rose 14% to $554.9 million in the year ended April 1, although the company lost almost $12 million in that period. 
With equities surging this year, companies are raising more money in initial stock offerings, Bloomberg notes. 
Fairway, which is 80.1% owned by private equity firm Sterling Investment Partners, has also faced some recent setbacks. Its Red Hook store in Brooklyn was damaged during Superstorm Sandy and reopened just last month, according to Gothamist.
The company started in the 1930s as a small fruit and vegetable stand and renamed itself Fairway in 1954 to convey the idea of "fair prices," according to the filing. With the slogan "Like No Other Market," more Americans might soon find out why New Yorkers are so crazy about the store. 
Follow Aimee Picchi on Twitter at @aimeepicchi.

Fairway has a nice selection and the meat section is great, but I would never say that the prices are great.  In comparison to Shop-Rite, they are outrageously high.  Now that I am out of the NYC metro area, I'm back to more reasonably priced stores.
New Yorkers need to get away for NYC once-in-a-while to understand that they are being raped by high prices!  With distribution systems the way they are today, there is no good reason to be paying the jacked-up prices paid by people there.  In my opinion, folks there need to stop buying into the hype and need to refuse to pay some of the prices being asked.  Let the meat and produce rot for a few days -- then you'll see some price drops quickly.
Are you sure you want to delete this comment?
DATA PROVIDERS
Copyright © 2014 Microsoft. All rights reserved.
Fundamental company data and historical chart data provided by Morningstar Inc. Real-time index quotes and delayed quotes supplied by Morningstar Inc. Quotes delayed by up to 15 minutes, except where indicated otherwise. Fund summary, fund performance and dividend data provided by Morningstar Inc. Analyst recommendations provided by Zacks Investment Research. StockScouter data provided by Verus Analytics. IPO data provided by Hoover's Inc. Index membership data provided by Morningstar Inc.
MARKET UPDATE
[BRIEFING.COM] The S&P 500 (-0.5%) remains pressured as every uptick has been met with selling activity. This morning, the health care sector (-0.6%) was an early source of weakness in reaction to concerns about the impact of new rules on tax inversion deals.

Over the past 30 minutes, Bloomberg reported that Pfizer (PFE 30.01, -0.17) has approached Actavis (ACT 242.88, +7.02) about a potential acquisition. Actavis, which traded with a slim loss ahead of the reports, has ... More
More Market News