$147 million tax break yields US-made Lexus
The incentive helped seal a deal with Toyota to move nearly all production of the ES luxury vehicle to Kentucky.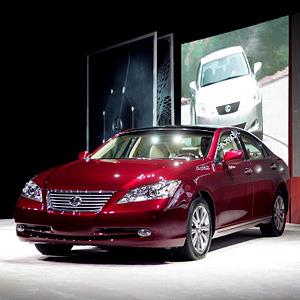 Toyota's (TM) luxury Lexus ES will soon be "Made in the U.S.A.," and all it took was $146.5 million in tax breaks from Kentucky. 

The automaker is adding production capacity to its Georgetown plant, where it will build the Lexus ES starting in 2015, Reuters reports. Toyota's website touts two models for the Lexus ES, starting at about $36,000 and $39,000.
The plan marks the first time the luxury model will be made outside of Japan, with the Kentucky plant eventually producing nearly all ES models sold in the U.S. and Canada. The hybrid version of the ES will continue to be manufactured in Japan, however. 
The plan could bring a long-term investment of $531 million over 10 years from Toyota and create 750 jobs, Consumerist reports. 
Tax breaks for corporations are increasingly coming under fire as some people question whether taxpayers see any benefits. States, counties and cities are forgoing more than $80 billion annually in tax breaks to big businesses, according to the New York Times.
It's also nearly impossible for local governments to figure out whether the breaks actually returned an investment, because many don't track job creation. And if they do, it's hard to know whether those positions would have been created without the tax incentives, The Times notes.
At the same time, the federal government is letting billions slip through its coffers by providing tax loopholes to U.S. corporations. As reported Wednesday, the U.S. lost corporate tax revenue of $181 billion in 2011 because of breaks such as credits and deductions. 
But Kentucky officials touted the agreement as a big win for the state. 
"Securing this significant investment in Georgetown, Kentucky, would be a huge economic development victory," a spokeswoman for the Kentucky Economic Development Finance Authority told Bloomberg in an email. 
Yet given that Japan was shipping the Lexus ES cars, which aren't even sold in Toyota's home country, across the ocean to sell in North America, it prompts the question of whether Toyota would have moved production stateside even without the incentives. 
As Reuters pointed out, Toyota and other Japanese carmakers have been seeking to shift production to markets where they sell in part of a goal to cut costs. 
DATA PROVIDERS
Copyright © 2014 Microsoft. All rights reserved.
Fundamental company data and historical chart data provided by Morningstar Inc. Real-time index quotes and delayed quotes supplied by Morningstar Inc. Quotes delayed by up to 15 minutes, except where indicated otherwise. Fund summary, fund performance and dividend data provided by Morningstar Inc. Analyst recommendations provided by Zacks Investment Research. StockScouter data provided by Verus Analytics. IPO data provided by Hoover's Inc. Index membership data provided by Morningstar Inc.
MARKET UPDATE
[BRIEFING.COM] The stock market finished the Tuesday session on the defensive after spending the entire day in a steady retreat. The S&P 500 (-0.6%) posted its third consecutive decline, while the small-cap Russell 2000 (-0.9%) slipped behind the broader market during afternoon action.

Equity indices were pressured from the start following some overnight developments that weighed on sentiment. The market tried to overcome the early weakness, but could not stage a sustained rebound, ... More
More Market News