Get ready for airport delays
Air traffic controllers will see furlough days as the FAA absorbs $637 million in budget cuts.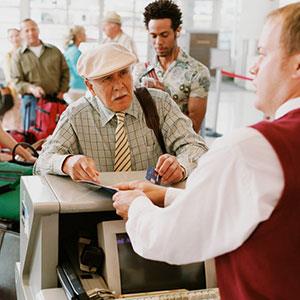 Travelers at the nation's largest airports could start seeing flight delays as budget cuts related to the federal sequester kick in.
The Federal Aviation Administration must trim $637 million from its budget as part of the sequester cuts,
according to
The Associated Press. With few options available, officials targeted air traffic controller payrolls and will cut staffing by 10%. Nearly 15,000 controllers will see one furlough day every other week through Sept. 30.
Fewer air traffic controllers will mean fewer planes will be able to move in and out, leading to some airport bottlenecks. The average delay will be about 11 minutes, the FAA said, but some airports could see far longer waits. Travelers could be waiting for up to 210 minutes at Hartsfield-Jackson Atlanta International Airport, which is the world's busiest in terms of passenger numbers and will likely see the worst delays.
Airlines are angry about the hit to their business. A spokeswoman for Airlines for America, an industry trade group, told the AP that airlines are considering suing the government over the furloughs, which they believe are unnecessary.
Here are other airports that could see delays, according to transportation officials:
Newark Liberty International Airport average delay: 20 minutes. Maximum delay: 51 minutes.
John F. Kennedy International Airport in New York average delay: 12 minutes. Maximum delay: 50 minutes.
LaGuardia Airport in New York average delay: 30 minutes. Maximum delay: 80 minutes.
Los Angeles International Airport average delay: 10 minutes. Maximum delay: 67 minutes.
O'Hare International Airport in Chicago average delay: 50 minutes. Maximum delay: 132 minutes.
Airports in Miami; Fort Lauderdale, Fla.; Charlotte, N.C.; San Diego; Philadelphia; and San Francisco are also expected to see delays, but officials didn't specify any length of time.

airline pilot for 20 years.  another fear grenade from your government.  the major airports that actually need towers will still be operational.  the John Murtha  west virginia welfare tower will go out of existence  (how many millions for 3 flights a day).  pilots are trained to operate in non tower environments.    the approach control is important and after that every pilot is trained in visual flight operations.  this is just another "lets inconvenience the public so they will give us more money for our "pet rocks" rather than take the same amount of money from something that funds snail research".

This isn't a real hard problem to solve. As the main users of the FAA services and the ones that it will impact the most, the airlines should foot more of the bill. And, it wouldn't be that much.

According to the Bureau of Transportation Statistics, the airlines flew about one trillion passenger miles last year. $500 million of additional airline funding would cost about $1 per 2000 passenger miles. The cost per ticket would be miniscule and they would get the service the airlines say they need.

Sometimes people want to make it a harder problem than they really are.

Notice how Obama has been out of the limelight for a few days?  He's been talking to his advisors on the next plan to sitr up "controversy" and scare the American people into thinking we have a crisis that needs immediate attention again.
Trust me, this is the beginning of it.  His advisors are going to slowly feed this nonsense to the media over the next several days to start the snowball effect.  Round and round we go.

quit this insanity years ago. refused to be treated like a common criminal. wanded, searched, strip searched, felt up, patted down and exrayed. the main goal of all these procedures is to prevent you from boarding the plane. and you pay for all this. great customer service-NOT. am retired now so have the time to drive. much more plearsurable.
Profits for company's and corporation are at the highest level since the roaring 20,s which lead to that CRASH.It not just big company trying to get out of paying there share for affordable health care,it the insurance company and the doctors and lawyers trying to hold on to there so called entitlements that made them rich by making sure nobody get proper health care. Can you imagine if all the gas and fuel entity of this country were to become nationally owned by the people of this country,which these fuels truly belong to, what impact that would have on the wealth,you are eccentrically looking at the same impact.This is not a game of squash the little people and get away with it once again.enough is enough.   

Are you sure you want to delete this comment?
DATA PROVIDERS
Copyright © 2014 Microsoft. All rights reserved.
Fundamental company data and historical chart data provided by Morningstar Inc. Real-time index quotes and delayed quotes supplied by Morningstar Inc. Quotes delayed by up to 15 minutes, except where indicated otherwise. Fund summary, fund performance and dividend data provided by Morningstar Inc. Analyst recommendations provided by Zacks Investment Research. StockScouter data provided by Verus Analytics. IPO data provided by Hoover's Inc. Index membership data provided by Morningstar Inc.
MARKET UPDATE
[BRIEFING.COM] The stock market began the new trading week on the defensive note with small-cap stocks pacing the retreat. The Russell 2000 (-1.4%) and Nasdaq Composite (-1.1%) displayed relative weakness, while the S&P 500 lost 0.8% with all ten sectors ending in the red.

Global equities began showing some cracks overnight after China's Finance Minister Lou Jiwei poured cold water on hopes for new stimulus measures. Specifically, Mr. Lou said the government has no plans to change ... More
More Market News