No hiding it: US military is crazy for camo
The armed forces had 2 types of camouflage in 2002. Now there are 10. And it's no small cost to taxpayers.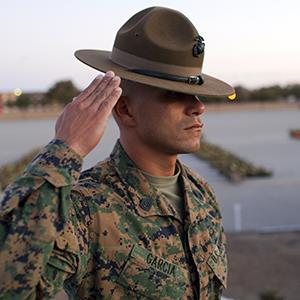 Camouflage is meant to help conceal, but there's no hiding the fact that camo has become a costly matter of pride among the different branches of the U.S. armed forces.
The Washington Post reports the U.S. military went from just two types of camouflage uniforms in 2002 -- green for forests and brown for the desert -- to at least 10 now.
And according to a Government Accountability Office study commissioned by the Senate Armed Services Committee, America's military has collectively spent about $12.5 million just on the development of the new camouflage patterns since 2000, with millions more budgeted for purchasing and supply.
According to the study, the Department of Defense encourages, but doesn't require, the standardization of uniforms and other clothing to reduce costs. However, the Marine Corps and Navy had their service logos printed on their customized camouflage patterns during manufacturing.
So while the Army hypothetically could adopt the Corps' uniform, the study wryly states that idea is precluded by "the prevailing military service culture that places a high value on having distinctive and unique combat uniforms." It also notes none of services have partnered on BDUs or DCUs -- that is, Battle Dress Uniforms or Desert Combat Uniforms -- since 2002.

The GAO study ends by recommending the military be issued "clear policies and procedures" to develop joint standards for their camo and use those policies to streamline savings in the development of future uniforms "to reduce inventory and overall procurement costs."
But as the Post explains, duplicate government programs have a long and expensive tradition in Washington, D.C., and certainly within the military.

"Multiple agencies do the same job at the same time," it says, "and taxpayers pay billions for the government to repeat itself. The habit remains stubbornly hard to break, even in an era of austerity."
DATA PROVIDERS
Copyright © 2014 Microsoft. All rights reserved.
Fundamental company data and historical chart data provided by Morningstar Inc. Real-time index quotes and delayed quotes supplied by Morningstar Inc. Quotes delayed by up to 15 minutes, except where indicated otherwise. Fund summary, fund performance and dividend data provided by Morningstar Inc. Analyst recommendations provided by Zacks Investment Research. StockScouter data provided by Verus Analytics. IPO data provided by Hoover's Inc. Index membership data provided by Morningstar Inc.
MARKET UPDATE
[BRIEFING.COM] Equity indices remain near their best levels of the session. The S&P 500 trades higher by 0.4%, while the Nasdaq Composite (+0.5%) displays relative strength.

The Nasdaq has received significant support from tech stocks, which have been able to overshadow the underperformance of biotechnology. Top-weighted sector components like Apple (AAPL 102.12, +0.54), SAP (SAP 77.19, +0.67), and Qualcomm (QCOM 76.32, +0.49) display gains between 0.5% and 0.9%, ... More
More Market News
TOP STOCKS
Meet Alibaba's new billionaires
Despite its size, the IPO will create just two new members of the 10-figure club from its executive ranks. A few others could net hundreds of millions.