Swan song for US symphonies?
Many orchestras are facing extinction as donations and funding dry up, while classical musicians are left to scramble for dwindling jobs.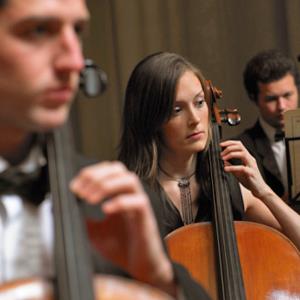 Is there still a market for live classical music in the U.S.? Many symphony orchestras, once well-funded and well-attended sources of civic pride in towns and cities across the country, are finding themselves in crisis.
Some orchestras are simply fading away. Last week, after 30 years of performances, Georgia's Gainesville Symphony Orchestra (GSO) announced it was ending its operations due to drastically reduced donations and a lack of community interest.
"This is a sad day, indeed," Vanessa Hyatt, the symphony's vice president, told the Gainesville Times. "We made every effort to save the GSO. But in the end, we did not have enough public support to save it."
Others are struggling to survive. According to Bloomberg, at least five major orchestras -- from Philadelphia to Honolulu -- have found themselves seeking bankruptcy protection since 2008. Even in Tennessee's storied "Music City," the Nashville Symphony is $102 million in debt. 
"Financial problems are not unique to any orchestra," Mitchell Korn, a professor at Vanderbilt University's Blair School of Music, recently told the Nashville Business Journal. "Every orchestra is struggling to find new ways to increase their earnings, increase their fund raising."
In an interview with MSN Money, Michigan State music professor Michael Largey said classical music -- as an academic pursuit and as a profession -- finds itself at a crossroads in the U.S.
"At one time, large music performance programs trained their students for jobs in symphony orchestras," he noted, "confident that there would be plenty of work for their graduates. Now, many orchestras across the country face budget deficits, declining subscriptions and increased hostility between the players and management that results in lengthy strikes."
In fact, musicians with the San Francisco Symphony are ending a costly, two-and-a-half-week-​long strike over contract negotiations, while a labor dispute with the Minnesota Orchestra has reached its six-month mark.
One big issue for classically trained musicians is the time, dedication and especially the finances needed to succeed in their profession. "It costs as much or more to get an advanced education as a musician [as it does] going to med or law school ... but if you play your cards right, there will always be a job at the end of med/law," wrote one musician, a principal with a major U.S. orchestra -- who asked not to be named for this article. "The only sure thing after [music] conservatory is lawn mowing."
In his emailed response to MSN Money, the musician noted that current pay scales for performers in top symphonies and orchestras can be very good, with base salaries of anywhere from $80,000 to $150,000. But those salaries plummet further down the performance tier, averaging anywhere from $10,000 to $49,000 annually. "Most orchestra musicians are barely squeaking by at less than living wages," he notes. "And many of them are really, really good."
Many classical musicians also teach, both to supplement their wages and to help pass on their education to future generations. But many musicians and music educators realize they need to evolve if they want their profession and passion to endure.
"Many music schools have responded to these changes by introducing more business-related coursework into their curricula, giving students exposure to the entrepreneurial side of the music world," said Largey. "All music schools recognize, however, that the life of a performing musician is growing more challenging every year."
if  CHILDREN ARE NOT EXPOSED TO CLASSICAL MUSIC AT HOME OR AT SCHOOl THE AUDIENCE WILL CONTINUE TO DWINDLE.Well educated parents with cultural background will continue to give children the benefit of exposure to the great composers of classical music and opera while the mass will revert to a blind ignorance .This will pertain as well to all the arts.Literature is also a neglected area ,great paintings ,sculpture all regarded by the "new barbarians "as superfluous.SAD!!

Bruce, League of American Orchestras data shows that very few communities - large and small - are willing to be orchestra-free.  In fact, every one of the five orchestras mentioned in the Bloomberg piece you reference in paragraph four have already exited from bankruptcy or reformed:  Philadelphia, Honolulu (Hawaii Symphony), Louisville, Albuquerque (New Mexico Philharmonic) and Syracuse (Symphoria).  Rachelle Schlosser / Director of Media Relations / League of American Orchestras
Are you sure you want to delete this comment?
DATA PROVIDERS
Copyright © 2014 Microsoft. All rights reserved.
Fundamental company data and historical chart data provided by Morningstar Inc. Real-time index quotes and delayed quotes supplied by Morningstar Inc. Quotes delayed by up to 15 minutes, except where indicated otherwise. Fund summary, fund performance and dividend data provided by Morningstar Inc. Analyst recommendations provided by Zacks Investment Research. StockScouter data provided by Verus Analytics. IPO data provided by Hoover's Inc. Index membership data provided by Morningstar Inc.
MARKET UPDATE
[BRIEFING.COM] The S&P 500 (-0.5%) remains pressured as every uptick has been met with selling activity. This morning, the health care sector (-0.6%) was an early source of weakness in reaction to concerns about the impact of new rules on tax inversion deals.

Over the past 30 minutes, Bloomberg reported that Pfizer (PFE 30.01, -0.17) has approached Actavis (ACT 242.88, +7.02) about a potential acquisition. Actavis, which traded with a slim loss ahead of the reports, has ... More
More Market News