When beef can be good for your heart
Carnivores, rejoice: A new report says the right kind of red meat might not be an artery-clogger after all.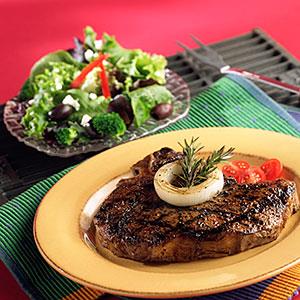 After a rash of bad news about bacon comes a study that suggests beef might actually benefit your heart. 

But there's a catch: Any old slab of meat isn't going to cut it. Instead, consumers need to fill their plates with lean beef, according to the study published in the American Journal of Clincal Nutrition. 
That should provide good news for beef and meat manufacturers, including Smithfield (SFD), which sells some lean beef products, and Hormel Foods (HRL).
Beef consumption has taken a hit during the past few years, with some diners choosing healthier options or just cutting back as they dealt with the recession. U.S. beef consumption dropped by more than 8% from 2002 to 2011, according to the Agriculture Department.
The study found that eating lean beef each day helped lower cholesterol levels, with the stearic acid in the meat said to help participants. After eating lean meat for five weeks, the participants saw a 5% drop in total cholesterol and a 4% drop in LDL, also known as "bad" cholesterol. That was almost the same result as people eating a diet with fish, poultry and vegetable protein, according to the U.K.'s Daily Mail.
One of the study's authors, Dr. Michael Roussell, told the Daily Mail that red meat "'brings a unique, heart-healthy blend of fats to the table," unlike processed meat such as sausages. 
That underscores another recent medical study, which found diets heavy in processed meats increase a person's risk of developing cancer and dying early.
Nevertheless, beef isn't the only source of stearic acid. Cheese, chicken and grain-based desserts are also top providers of the saturated fatty acid, according to the National Cancer Institute. 
Maybe a dinner of a lean-beef cheeseburger followed by a slice of chocolate cake isn't so unhealthy after all. 
Are you sure you want to delete this comment?
DATA PROVIDERS
Copyright © 2014 Microsoft. All rights reserved.
Fundamental company data and historical chart data provided by Morningstar Inc. Real-time index quotes and delayed quotes supplied by Morningstar Inc. Quotes delayed by up to 15 minutes, except where indicated otherwise. Fund summary, fund performance and dividend data provided by Morningstar Inc. Analyst recommendations provided by Zacks Investment Research. StockScouter data provided by Verus Analytics. IPO data provided by Hoover's Inc. Index membership data provided by Morningstar Inc.
MARKET UPDATE
[BRIEFING.COM] S&P futures vs fair value: +4.90. Nasdaq futures vs fair value: +13.50. U.S. equity futures trade modestly higher amid upbeat action overseas. The S&P 500 futures hover five points above fair value. The global risk appetite got a boost overnight after the results of the Scottish independence referendum revealed a 55-45 vote in favor of remaining in the UK. The pound saw a brief extension of its recent rally before surrendering its overnight advance. The pound/dollar ... More
More Market News