The battle for Herbalife has begun
Activist investor Dan Loeb buys a major stake and locks horns with Bill Ackman, who says the company is a scam.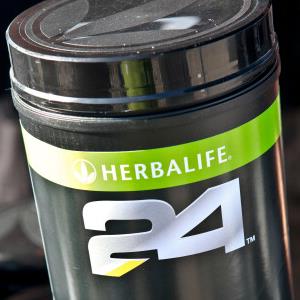 Shares of
Herbalife
(
HLF
) were up almost 4% Wednesday
after CNBC
reported that activist investor Dan Loeb took an 8.24% stake in the multi-level marketer -- the same company that well-known short-seller Bill Ackman has argued is a "pyramid scheme."  
Loeb, best known for his bet on
Yahoo
(
YHOO)
and Greek bonds, Wednesday reported that his Third Point hedge fund owns 8.9 million shares of Herbalife, according to a filing with the Securities & Exchange Commission. Contrast that with Ackman's Pershing Square, which has a short position of more than 20 million shares in the seller of nutritional supplements and personal care products.  The SEC has also opened an investigation into the company, according to the
Wall Street Journal
.
Herbalife declined to comment on Loeb and the SEC probe. Executives are scheduled to make a presentation to Wall Street analysts Thursday to refute Ackman's charges, which the company described as "a malicious attack on Herbalife's business model based largely on outdated, distorted and inaccurate information." Third Point  couldn't be reached.
"The goal of our December 20th presentation was to shine a spotlight on the company so that the world better understands the facts about Herbalife," Ackman said in a statement. "The outcome of this investment is not about Pershing Square or anyone else who is long or short the stock.  To the extent another investor, long or short, brings additional sunlight to the situation, we welcome them."
Herbalife, based in the Cayman Islands, has been dogged by controversy for years. Founder Mark Hughes died in 2000 following an accidental overdose of alcohol and anti-depressants.   His estate has been involved in numerous legal battles since then. Nobel Prize winner Louis Ignarro came under fire from
Bloomberg News
in 2004 for touting an Herbalife supplement in a scientific journal without disclosing his financial ties to the company. David Einhorn, another short seller, spooked the stock market last May when he raised questions about the company's finances.
Most Wall Street analysts remain bullish on Herbalife. The average 52-week price target on the stock is $71.43, more than 80% higher than where it currently trades. Herbalife, however, remains risky. Investors were rattled last month after Herbalife said it hadn't used $950 million of the $1 billion it had authorized to buy back shares because of "trading restrictions," as
Reuters noted.

--Jonathan Berr does not own shares of the listed stocks. Updated at 2:08 pm to add comments from Ackman and at 3:59 p.m. to add report of SEC probe. Follow him on Twitter @jdberr

More on Money Now


For a hedge-fund bright boy Ackman didn't come off too well.  His assertions are at odds with legal definitions (except for Brussels), And Herbalife has been in business since before Ackman was dry behind the ears.  Being a wall street bright boy the least he could have done was to come up with a creative critique of the multilevel marketing rather than presenting himself as anachronistic and out of touch.  But then these folks have less and less credibility anyway.  I am not sure if even congress has a lower approval rating.
Herbalife is not a scam. People buyer products and they can comsume and ot sell the products to other people. I would understand a scam to be a one way street where the buyer spends or invests money and gets nothing in return. I have purchased Herbalife products for since August of 2007. I use the products daily and have in the past sold some products and have had some distributors with me. The products are good.
Are you sure you want to delete this comment?
DATA PROVIDERS
Copyright © 2014 Microsoft. All rights reserved.
Fundamental company data and historical chart data provided by Morningstar Inc. Real-time index quotes and delayed quotes supplied by Morningstar Inc. Quotes delayed by up to 15 minutes, except where indicated otherwise. Fund summary, fund performance and dividend data provided by Morningstar Inc. Analyst recommendations provided by Zacks Investment Research. StockScouter data provided by Verus Analytics. IPO data provided by Hoover's Inc. Index membership data provided by Morningstar Inc.
MARKET UPDATE
[BRIEFING.COM] S&P futures vs fair value: -5.50. Nasdaq futures vs fair value: -11.80. U.S. equity futures continue holding modest losses with the S&P 500 futures down six points below fair value.

The Dollar Index began the night in the red after gaining 0.6% last week, but a steady rally off the lows has placed the index back near its flat line for the session. The dollar is currently little changed versus the yen (109.05), while the euro (1.2844) and the pound (1.6330) ... More
More Market News