Layoffs at lowest levels since 1997
One placement firm says employers eliminated fewer jobs than they have in 16 years, but labor statistics suggest a bleaker picture.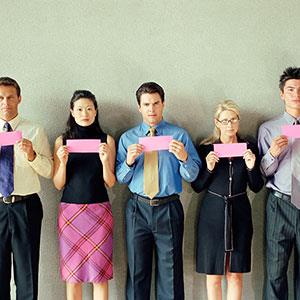 To all the workers who were laid off in 2012, congratulations: You're one of an elite few.
While it comes as little consolation to those who found themselves on (or back on) the unemployment rolls last year, outplacement consultancy firm Challenger, Gray & Christmas reported Thursday that the 523,362 layoffs announced in 2012 were the least since 1997. That number was also down 14% from 2011. There were 32,556 job cuts announced in December, a drop of 43% from November and 22% from a year earlier.
Challenger's news came just as Automatic Data Processing (ADP), which processes payroll information for half a million private companies in the U.S., indicated that the private sector added 215,000 jobs in December, up from a revised 148,000 in November. It also comes a day before the Bureau of Labor Statistics is scheduled to release employment numbers for December.
Though analysts predict the Bureau of Labor Statistics will report 150,000 jobs added in December and a 7.7% unemployment rate similar to November's, both the ADP and Challenger reports suggest the fiscal cliff talks weren't much of an obstacle for businesses that needed to fill seats.
"We have not seen this level of job cutting since before the dot-com collapse and subsequent 2001 recession," said John Challenger, chief executive of Challenger, Gray and Christmas, in a statement. "Despite the uncertainty related to the fiscal cliff. . . employers held steady in the final months of the year and avoided a surge in mass layoffs."
Employees shouldn't let any of the above lull them into a false sense of security and encourage them to do backflips to test their company's health care and workers compensation. The Bureau of Labor Statistics indicates that the U.S. economy bled nearly 800,000 jobs through layoffs in the first three quarters of 2012 alone. The BLS has counted more than 1 million layoffs in the U.S. in each of the last four years and in five of the last 10, with layoffs peaking at 2.1 million in 2009. The U.S. had its last "good" year for layoffs in 2004, and even then 885,000 were sent packing.
Even the job growth that's supposedly offsetting those layoff numbers isn't worth getting worked up about. As the Washington Post's Wonkblog points out, those still aren't great numbers. The Hamilton Project's calculator indicates that the current pace of job growth won't put the U.S. back to pre-crisis employment until 2020. It's also still nowhere close to the more than the average of more than 300,000 jobs the U.S. economy added each month during the 1990s.
The one bit of good news in those Challenger layoff statistics for December is that, unless something goes horribly awry, they shouldn't get much worse in early 2013. In the last decade, the number of layoffs in the first quarter has exceeded the number of layoffs in the fourth quarter of the previous year only once: during the economic collapse in 2009 when 640,000 fourth-quarter layoffs in 2008 were followed by 705,000 layoffs during the next quarter.
Each of those spurts outpaced Challenger's layoff estimate for all of 2012. That doesn't make Challenger's numbers 100% right, but it's a good reminder of why recent economic optimism took a detour around the fiscal cliff.
More on Money Now


Obama is the problem. A junior Senator with next to nothing in experience cannot manage a country. He has no domestic management experience and the only reason for his elections is the Facebook movement. Kids wanted to cheer for some sort of post-civil rights agenda (which when they were asked questions about MLK, etc., knew absolutely nothing about history) to feel important. All they ended up doing was taking a fragile economy and making it worse. For their generation, it's the ultimate karma. They will never see a dime in Social Security now. Obama loves the welfare programs.

Are you sure you want to delete this comment?
DATA PROVIDERS
Copyright © 2014 Microsoft. All rights reserved.
Fundamental company data and historical chart data provided by Morningstar Inc. Real-time index quotes and delayed quotes supplied by Morningstar Inc. Quotes delayed by up to 15 minutes, except where indicated otherwise. Fund summary, fund performance and dividend data provided by Morningstar Inc. Analyst recommendations provided by Zacks Investment Research. StockScouter data provided by Verus Analytics. IPO data provided by Hoover's Inc. Index membership data provided by Morningstar Inc.
MARKET UPDATE
[BRIEFING.COM] The stock market finished an upbeat week on a mixed note. The S&P 500 shed less than a point, ending the week higher by 1.3%, while the Dow Jones Industrial Average (+0.1%) cemented a 1.7% advance for the week. High-beta names underperformed, which weighed on the Nasdaq Composite (-0.3%) and the Russell 2000 (-1.3%).

Equity indices displayed strength in the early going with the S&P 500 tagging the 2,019 level during the opening 30 minutes of the action. However, ... More
More Market News