Komen CEO Nancy Brinker's salary under fire
While the breast cancer charity cancels races amid a drop in donations, its leader's lavish $684K pay sparks a backlash.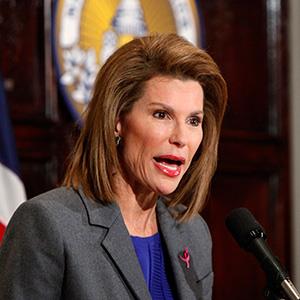 Susan G. Komen, the largest breast cancer charity, has struggled financially over the past two years after a controversy involving Planned Parenthood led to a drop in donations and the cancellation of some races. 

But those challenges apparently aren't reflected in its chief executive's pay. CEO Nancy Brinker has received a whopping 64% raise, bringing her salary to $684,000 a year, NBC News reports.
Komen said the raise, which was disclosed recently in tax documents, came in November 2010, before the issues arose with Planned Parenthood and the charity had to cut half of its 3-Day races for 2014.
One watchdog group called her salary "extremely high."

"It's about a quarter of a million dollars more than what we see for charities of this size. . . . This is more than the head of the Red Cross is making for an organization that is one-tenth the size of the Red Cross," Ken Berger, the president and CEO of charity evaluator Charity Navigator, told NBC. 
Brinker is outearning not only her equal at the Red Cross but those at several other large charities as well. Feeding America, the fourth-largest U.S. charity, pays its CEO about $409,000, according to Charity Navigator. Komen ranks as the country's 40th-largest charity, according to Forbes.
Komen defended Brinker's salary. A spokeswoman noted she "did not receive a pay increase in 2011 and did not accept one in 2012, nor will she receive one in 2013." Brinker said last year she would leave her role, but she's still sitting in the CEO seat. 
Brinker's spending was the focus of a 2012 report from the Daily Beast, which noted that the former U.S. ambassador to Hungary billed the foundation $133,507 in expenses in a roughly 19-month period. 
At the time of the expense claims, Brinker was actually a full-time federal employee, having been tapped by President George W. Bush to serve as the chief of protocol for the State Department.
The expenses, which covered some travel and office costs, were approved by Komen's board because Brinker was the founder of the group, the story said. 
Komen, which raises money through a series of running events, suffered a drop in race participation after it stopped funding Planned Parenthood, which angered many of its supporters. (Komen also supports the use of pink-ribbon marketing by corporate partners such as General Mills' (GIS) Yoplait.)
The latest controversy is only ramping up more anger against the organization. 
Breast cancer survivor and former Komen race participant Lisa Bonchek Adams told the Daily Beast, "If Nancy Brinker were smart, she'd say: 'Gee, I took $685,000 in salary last year. Whatever we need to make these events go on, how about I give up my salary for a year?'"
Follow Aimee Picchi on Twitter at @aimeepicchi. 
DATA PROVIDERS
Copyright © 2014 Microsoft. All rights reserved.
Fundamental company data and historical chart data provided by Morningstar Inc. Real-time index quotes and delayed quotes supplied by Morningstar Inc. Quotes delayed by up to 15 minutes, except where indicated otherwise. Fund summary, fund performance and dividend data provided by Morningstar Inc. Analyst recommendations provided by Zacks Investment Research. StockScouter data provided by Verus Analytics. IPO data provided by Hoover's Inc. Index membership data provided by Morningstar Inc.
MARKET UPDATE
[BRIEFING.COM] Recent action saw the key indices inch to fresh lows for the session. Including today's decline of 0.8%, the S&P 500 is lower by 0.5% so far in September. Despite the loss for the month, the benchmark index has fared a bit better than its higher-beta peers. On that note, the Nasdaq has given up 1.3% so far this month, while the Russell 2000 is down 3.7% for the month. Elsewhere, the price-weighted Dow (-0.5%) trades ahead of the broader market today and is up 0.6% for the ... More
More Market News