Obama set to push for gun control
The president is expected to call for expanded background checks and a ban on assault weapons and high-capacity magazines.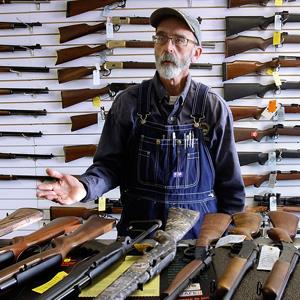 News is emerging late Tuesday that President Obama is expected to issue a sweeping call for increased gun control, including renewing a ban on assault weapons.
Obama will also push Wednesday for universal background checks and a ban on high-capacity magazines. Obama is expected to address school security, notes NBC reporter Chuck Todd on Twitter, but he will not call for armed guards at schools.
The move comes as the National Rifle Association launches a campaign against Obama's refusal to require armed guards in schools. At the NRAStandandFight
website
, the association is showing a video calling Obama an "elitist hypocrite" because his children are protected by armed guards.
The NRA said it has seen an "unprecedented" spike in membership numbers in the last month, CNN
reports
, with 250,000 people joining the 4.25 million existing members. Spokesman Andrew Arulanadam told the network that "this is going to be a very expensive and hard-fought fight."
The intense focus on gun control came after a Dec. 14 massacre at a Connecticut school in which a 20-year-old gunman killed 20 children and six educators. After the shooting, Vice President Joe Biden led a panel tasked with analyzing gun control.
More on Money Now
About moneyNOW
MoneyNOW brings users smart, original and entertaining takes on the latest business and investing topics that are buzzing on the Web.
MARKET UPDATE
[BRIEFING.COM] The S&P 500 has slipped to fresh lows as the broader market continues to show weakness. Nine of ten sectors trade with losses larger than 0.5% while the consumer staples space registers a slim gain due to the relative strength of Procter & Gamble (PG 81.61, +2.91) following its management shake-up.

With the broader market seeing early losses, the CBOE Volatility Index (VIX 14.51, +0.44) is higher by about 3.0%.

In the ... More
More Market News