6 things to know about Powerball
Lotto fever builds as the jackpot hits $360 million, while Mega Millions climbs to $190 million.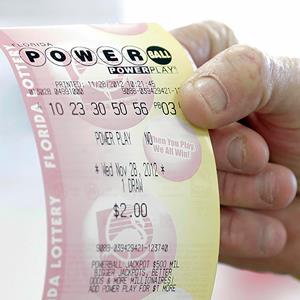 More than half a billion dollars is ready for the taking as the Powerball and Mega Millions jackpots roll over this week.
Wednesday's Powerball prize stands at an estimated $360 million, the third-largest Powerball jackpot in history. The cash option before taxes is worth $229.2 million.
Every time the jackpot has climbed this high, someone has won,
according to
Philly.com. No wonder people are lining up to grab tickets.
Here are six things you might not know about Powerball:
Huge jackpots are here to stay.
These giant prizes we've seen lately are partly a result of the cross-selling of Powerball and Mega Millions tickets that began in January 2010, The Associated Press
reports
. In that expansion, the Powerball lottery broadened to 43 jurisdictions. Large jackpots are "the new normal," Iowa Lottery spokeswoman Mary Neubauer said.
A game change makes it easier to win.
A
January 2012 redesign added $1 million and $2 million prizes, making it easier to win something, even if that something isn't the huge jackpot, AP reports.
This Powerball chart
shows all the ways to win.
Here's how to win $4:
There are 35 "red ball" numbers, and any ticket with the correct red ball wins at least $4. So you are 100% guaranteed to win $4 if you buy 35 tickets, each with a different red ball number. It's kind of a way for large-group gamblers to get their own discount, or rebate, with every draw, according to the
Powerball
site.
Most of you can't win anonymously.
Only five states let you win in secret: Delaware, Kansas, Maryland, North Dakota and Ohio. The rest have laws requiring the lottery to announce the winners and their cities of residence to anyone who asks. Most states let you decide whether you want to have your photo distributed or host a press conference, according to the Powerball site.
The annuity payouts are different.
The Powerball annuity payout comes in graduated amounts, increasing by 4% a year to keep up with inflation over 29 years. The Mega Millions annuity is in equal amounts paid over 25 years.
No one really wants a $1 million prize.
People have told Powerball to change the system to award lots of people $1 million each instead of a mega jackpot. So Powerball started that game and what happened? No one played.
DATA PROVIDERS
Copyright © 2014 Microsoft. All rights reserved.
Fundamental company data and historical chart data provided by Morningstar Inc. Real-time index quotes and delayed quotes supplied by Morningstar Inc. Quotes delayed by up to 15 minutes, except where indicated otherwise. Fund summary, fund performance and dividend data provided by Morningstar Inc. Analyst recommendations provided by Zacks Investment Research. StockScouter data provided by Verus Analytics. IPO data provided by Hoover's Inc. Index membership data provided by Morningstar Inc.
MARKET UPDATE
[BRIEFING.COM] S&P futures vs fair value: -6.30. Nasdaq futures vs fair value: -14.80. U.S. equity futures trade hover near their pre-market lows amid cautious action overseas. The S&P 500 futures hover six points below fair value, which puts the benchmark index on track to continue its retreat after losing 0.8% yesterday.

Overnight, markets in Asia traded in mixed fashion, but sentiment worsened after the start of the European session, where all the key indices hold losses ... More
More Market News