Moonshine goes mainstream
Artisanal blends sold at Disney World and on a Discovery Channel show are bringing corn whiskey out of the woods.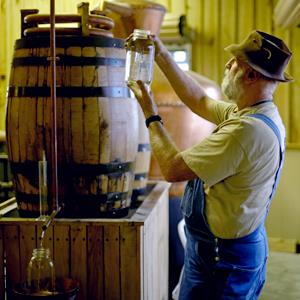 It looks like moonshine has made its certifiable return to American pop culture, but very little of the stuff being passed around in mason jars is actual moonshine.
The problem with moonshine in its current incarnation -- the one that gets its own show on the Discovery Channel (DSCA) and puff pieces in Bon Appetit -- is that it only sort of fits the common definition of the concoction. It's still triple-distilled corn whiskey made from recipes passed down through the generations, it's still brewed in small batches and it's still surprisingly pleasant for a liquor so strong.
It overwhelmingly isn't produced in old radiators anymore, it no longer has alcohol content that can blind a person and it isn't commonly contaminated with low-grade methanol, antifreeze or other potential toxins. In many cases, it's both taxed and legally distilled by professionals using costly copper equipment. Law enforcement in the Virginia counties where the Discovery Channel's "Moonshiners" is filmed told the Associated Press that the alcohol production on the show doesn't even qualify as illegal moonshining. 
That's not to say moonshine has completely separated from its law-skirting past. Back in 2010, the BBC found that still makers like Colonel Vaughn Wilson of Arkansas were selling copper stills for $300 to $1,000 to traditional markets like Kentucky and Georgia, but also to hipsters in Brooklyn looking to try it out for themselves. The Federal Government's Alcohol and Tobacco Tax and Trade Bureau notes that while it's tough to catch folks distilling small batches in their own homes, it's still illegal to distill without a license that can cost tens of thousands of dollars. Getting caught means a fine of up to $15,000 and five years in jail. 

It's a big reason much of what's known as moonshine today is produced above board. Junior Johnson, whose moonshine runs through the woods of North Carolina earned him 11 months in federal prison during the 1950s but laid the groundwork for NASCAR, began producing Junior Johnson's Midnight Moon moonshine back in 2007. It's all professionally distilled and supplements the original "white lighting" corn whiskey recipe with flavored varieties like apple pie, blackberry, blueberry and strawberry.

Relative newcomer Troy Ball, founder of Troy & Sons, got into making moonshine after sipping a sample back in 2008. Troy & Sons now produces more than 10,000 bottles of Platinum Moonshine and Oak Reserve Moonshine each year and distributes them across the Southeast, including to Walt Disney World's Wilderness Lodge. Even as Brooklynites set up copper stills within their meager square footage, borough whiskey bar Char No. 4 and owner Sean Josephs stock "white whiskey" moonshine as both an option and educational tasting tool.
"Tasting it with no wood, just with the raw corn flavor," Josephs told Bon Appetit, "lets you really get a sense of how char affects the spirit, as it matures into bourbon."

Moonshine distillers don't have to wait long to see the fruits of their labor either. While bourbon can spend a minimum of half a decade aging in barrels, moonshine is good to go as soon as the mash goes through the still. It's given "artisanal" or "craft" distillers a slight edge on big whiskey producers like Beam (BEAM), Diageo (DEO) and Jack Daniel's owner Brown-Forman (BF.A), but it's carved out a legacy portion of the whiskey market that many Americans have only heard about through old episodes of "The Dukes of Hazzard," if at all.
Moonshine may not be the outlaw liquor it once was, but even its safe and legal version is a potent force in America's drinking culture.
More on Money Now
DATA PROVIDERS
Copyright © 2014 Microsoft. All rights reserved.
Fundamental company data and historical chart data provided by Morningstar Inc. Real-time index quotes and delayed quotes supplied by Morningstar Inc. Quotes delayed by up to 15 minutes, except where indicated otherwise. Fund summary, fund performance and dividend data provided by Morningstar Inc. Analyst recommendations provided by Zacks Investment Research. StockScouter data provided by Verus Analytics. IPO data provided by Hoover's Inc. Index membership data provided by Morningstar Inc.
MARKET UPDATE
[BRIEFING.COM] The stock market finished an upbeat week on a mixed note. The S&P 500 shed less than a point, ending the week higher by 1.3%, while the Dow Jones Industrial Average (+0.1%) cemented a 1.7% advance for the week. High-beta names underperformed, which weighed on the Nasdaq Composite (-0.3%) and the Russell 2000 (-1.3%).

Equity indices displayed strength in the early going with the S&P 500 tagging the 2,019 level during the opening 30 minutes of the action. However, ... More
More Market News