Even President Obama is owed unclaimed money
States are holding on to billions that residents don't know they have. That money becomes state revenue if not picked up.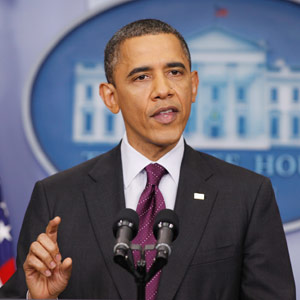 Think government officials are getting too much money as it is this tax season? Well even the president has some unclaimed cash kicking around this time of year.
Back in 2011, states returned $2.25 billion in unclaimed funds to 2.5 million citizens. That's only about 6% of total funds that have gone unclaimed, but if nobody claims it, you bet states are going to consider it revenue. A total of $58 billion is just waiting for folks to step up and get what's coming to them.

As CNNMoney notes, Delaware alone is set to rake in $500 million in unclaimed property this year, up from $71.1 million in 1997. That gives states a whole lot of incentive to close the window for reclaiming said property. In California, for example, shares in a company were once considered "abandoned" after 30 days before the state eventually extended the deadline to 18 months.
President Obama has money coming to him in the form of unclaimed funds from his election win over Mitt Romney in November. Cashier's checks -- one for $100 and one for $350 -- were turned over to California by First Republic Bank (FRC) and Bank of America (BAC). The latter has even more checks worth more than $2,500 listed under "Obama for America" that it plans to release later this year if they go unclaimed. (The California State Controller's Office has a search service that lets you find people who have money waiting for them.)

By rich-get-richer standards, Obama's $450 is peanuts compared to the cash celebrities are leaving on the table. Lindsey Lohan is owed $1,559.80 by California, while supermodel Cindy Crawford could buy a sports cars with the $101,090 from Abbott Laboratories (ABT) that California is holding for her. Crawford is a spokeswoman for Abbott's EAS dietary supplements, though Abbott keeps sending checks to her agents that remain unclaimed.
Google founder Sergey Brin still hasn't received the $1,184 he's owed from Stanford University, where he was a Ph.D. student and taught a data-mining course in the late 1990s. Singer, actor, MySpace owner and Bud Light Platinum creative director Justin Timberlake has $3,579 kicking around, most of it from Talent Partners Commercial Services for various acting gigs.
Finally, in what likely equates to couch change for the founder of Facebook, Mark Zuckerberg still hasn't claimed $404 from two different checks. No, he probably doesn't need it, but couldn't he at least humor everyone else and check under the cushions once in a while?
DATA PROVIDERS
Copyright © 2014 Microsoft. All rights reserved.
Fundamental company data and historical chart data provided by Morningstar Inc. Real-time index quotes and delayed quotes supplied by Morningstar Inc. Quotes delayed by up to 15 minutes, except where indicated otherwise. Fund summary, fund performance and dividend data provided by Morningstar Inc. Analyst recommendations provided by Zacks Investment Research. StockScouter data provided by Verus Analytics. IPO data provided by Hoover's Inc. Index membership data provided by Morningstar Inc.
MARKET UPDATE
[BRIEFING.COM] The stock market finished the Tuesday session on the defensive after spending the entire day in a steady retreat. The S&P 500 (-0.6%) posted its third consecutive decline, while the small-cap Russell 2000 (-0.9%) slipped behind the broader market during afternoon action.

Equity indices were pressured from the start following some overnight developments that weighed on sentiment. The market tried to overcome the early weakness, but could not stage a sustained rebound, ... More
More Market News