An Excel flub may blow holes in calls for austerity
Rep. Paul Ryan and others have argued for draconian spending cuts based on a 2010 Harvard study that's now coming under fire as gravely flawed.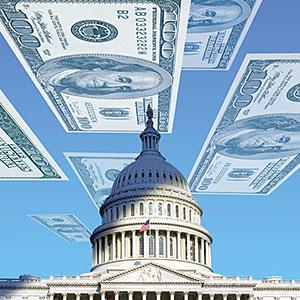 What happens when an academic study becomes so widely accepted that it forms the basis for legislative policy prescriptions that can affect an entire country -- and then is later shown to be flawed? We're about to find out.
The recent debate over what to do about the federal deficit was fueled in part by a much-cited 2010 study from respected Harvard economists Ken Rogoff and Carmen Reinhart, who argued that when a country's ratio of debt to gross domestic product reaches 90%, things go very wrong. 

According to their research, such countries can expect depressing years of stagflation (slow growth and rising prices). That prompted austerity arguments from Rep. Paul Ryan, a Republican from Wisconsin and former vice-presidential candidate, who urged drastic federal spending cuts.
However, according to new findings from economists at the University of Massachusetts at Amherst, Rogoff and Reinhart's report is not as solid as previously thought. 
In their paper, economists Thomas Herndon, Michael Ash and Robert Pollin say coding errors in Excel -- as well as excluded data and unconventional weighting of statistics -- created "serious errors that inaccurately represent the relationship between public debt and GDP growth." With the coding error in Excel, a software program from Microsoft (which owns and publishes moneyNOW, an MSN Money site), five of the countries were excluded in Rogoff and Reinhart's spreadsheet calculations, as explained by Quartz.com.
Reinhart and Rogoff defended their conclusions, writing to Bloomberg in an email that "on a cursory look" the new study also shows growth slowing for nations with high debt levels. "We literally just received this draft comment, and will review it in due course," they wrote. 
The new findings may prove to undermine Ryan and other conservatives who have steered the debate on the budget deficit. Ryan's 2013 budget, "The Path to Prosperity: A Blueprint for American Renewal," said the Reinhart and Rogoff study "confirmed that the massive debts of the kind the nation is on track to accumulate are associated with stagflation -- a toxic mix of economic stagnation and rising inflation."
So what did the new paper find when it reworked Reinhart and Rogoff's research? 
Countries with debt of more than 90% of GDP grew at an average of 2.2% per year. Reinhart and Rogoff had argued that such countries witnessed a -0.1% decline in GDP on average. 
The bottom line? As the Los Angeles Times' Michael Hiltzik writes, if the newest findings hold up, it's a blow to the argument that the country's economic growth depends on cutting the deficit and reducing the national debt. 
Follow Aimee Picchi on Twitter at @aimeepicchi. 
DATA PROVIDERS
Copyright © 2014 Microsoft. All rights reserved.
Fundamental company data and historical chart data provided by Morningstar Inc. Real-time index quotes and delayed quotes supplied by Morningstar Inc. Quotes delayed by up to 15 minutes, except where indicated otherwise. Fund summary, fund performance and dividend data provided by Morningstar Inc. Analyst recommendations provided by Zacks Investment Research. StockScouter data provided by Verus Analytics. IPO data provided by Hoover's Inc. Index membership data provided by Morningstar Inc.
MARKET UPDATE
[BRIEFING.COM] S&P futures vs fair value: -6.30. Nasdaq futures vs fair value: -14.80. U.S. equity futures trade hover near their pre-market lows amid cautious action overseas. The S&P 500 futures hover six points below fair value, which puts the benchmark index on track to continue its retreat after losing 0.8% yesterday.

Overnight, markets in Asia traded in mixed fashion, but sentiment worsened after the start of the European session, where all the key indices hold losses ... More
More Market News