Earth has hit 'peak farmland,' new study says
Researchers at Rockefeller University say crops will need less room to grow by 2060. But they leave out climate change and the debate over genetically modified food.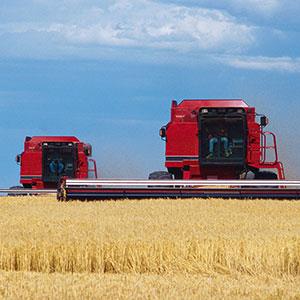 We've hit "peak farmland"? Quick, stock the Y2K cellar, raid the 12/21 supplies, start jarring your. . . . Wait, that doesn't mean we're going to starve to death? Never mind.
Don't get us wrong. A study by researchers at Rockefeller University in New York that found we're using more agriculture now than we ever will still says there's going to be fewer of us at some point. It's just not a lack of available farmland or food that's going to kill us.
Jesse Ausubel, the director of the Program for the Human Environment at Rockefeller University, told Reuters that declining population growth and increased crop production will decrease the amount of necessary farmland by 10% and return an area of land 2 1/2 times the size of France to its natural state by 2060.
"We believe that humanity has reached peak farmland, and that a large net global restoration of land to nature is ready to begin," Ausubel wrote in the journal Population and Development Review. "Happily, the cause is not exhaustion of arable land, as many had feared, but rather moderation of population and tastes and ingenuity of farmers."
Ausubel's study said the global arable land and permanent crop areas rose from 3.38 billion acres in 1961 to 3.78 billion acres in 2009. His belief is that it will fall to 3.41 billion acres in 2060. Meanwhile, it also projects that crop growth would outpace food supply by 0.4% a year until 2060, up from 0.24% a year from 1961-2010.
This flies in the face of Thomas Robert Malthus' prediction from his 1798 "Essay on the Principle of Population" that predicted exponential population growth would outstrip the gradual growth of the food supply and would result in war, disease and starvation. That "Malthusian catastrophe" spurred arguments about birth control and treatment of the poor that inspired Charles Dickens to write one of Ebenezer Scrooge's coldest quotes from the Christmas Carol during a discussion of poor Londoners who would rather die than live in the city's prisons and workhouses: "If they would rather die they had better do it, and decrease the surplus population."
Before the world starts flipping off Malthus and celebrating Tiny Tim-style, though, there are just a few minor weaknesses in Ausubel's findings. For one, they rely heavily on assumptions that China's taste for meat will continue to lag its economic growth and that both China and India's eating habits will remain consistent and continue to spare farmland. It also makes little to no provisions for biofuels and their potential demand on agriculture.
It also doesn't address the potential effects of climate change in the least, as a United Nations farming study did in June. That research found that the world will need an extra 173 million acres of farmland by 2050 to compensate for degraded and polluted soil and land inundated by rising ocean salt water.
It also makes the fairly broad assumption that the world is perfectly OK with just how crop production has increased and how it's affected the world's food supply. Already, China, Saudi Arabia, South Korea, Japan, Australia, New Zealand, Russia, India, Chile and countries within the European Union have laws requiring genetically modified foods to be labeled as such. A ballot measure that would have required similar labeling in California failed after food companies including Monsanto (MON) and Hershey (HSY) spent $44 million to oppose it.
So, no, Rockefeller University's "peak farmland" study isn't nearly as dour as similar research on "peak oil" -- the idea that we've hit maximum extraction, production and use for petroleum around the globe. Then again, it doesn't seem nearly as concerned about variables and empirical data as the oil research is. While it's great to hear we're not going to starve ourselves into extinction, feeding the world just a bit more information with such assurances doesn't hurt.
More from Money Now
DATA PROVIDERS
Copyright © 2014 Microsoft. All rights reserved.
Fundamental company data and historical chart data provided by Morningstar Inc. Real-time index quotes and delayed quotes supplied by Morningstar Inc. Quotes delayed by up to 15 minutes, except where indicated otherwise. Fund summary, fund performance and dividend data provided by Morningstar Inc. Analyst recommendations provided by Zacks Investment Research. StockScouter data provided by Verus Analytics. IPO data provided by Hoover's Inc. Index membership data provided by Morningstar Inc.
MARKET UPDATE
[BRIEFING.COM] The stock market finished the Tuesday session on the defensive after spending the entire day in a steady retreat. The S&P 500 (-0.6%) posted its third consecutive decline, while the small-cap Russell 2000 (-0.9%) slipped behind the broader market during afternoon action.

Equity indices were pressured from the start following some overnight developments that weighed on sentiment. The market tried to overcome the early weakness, but could not stage a sustained rebound, ... More
More Market News