Customers to restaurants: Stop making us fat
A report finds that low-calorie dishes and drinks bring in more business for chains like Applebee's and Panera Bread.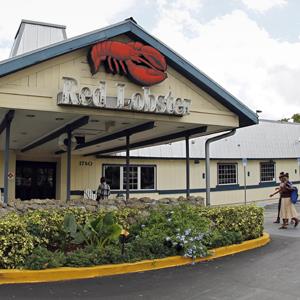 Who do casual dining chains think they're fooling by sprinkling low-cal options into their calorie-laden menus? America, apparently.
As overall business at casual dining chains has decreased since 2006, the amount of low-calorie food consumed at these strip-mall eateries has skyrocketed, according to a report released Thursday by the Hudson Institute.

The group set the bar at 500 calories for a sandwich or entree, 150 calories for a side, appetizer or dessert and 50 calories for a beverage and found that low-calorie items outperformed less healthy items in 17 of the 21 restaurant chains surveyed.
The group used data from market research firm NPD Group and industry magazine Nation's Restaurant News to reach its conclusions and found its proof on the average plate. Of the 21 chains, nine increased the number of lower-calorie items sold from 2006 to 2011 and averaged a 5.5% same-store sales increase while increasing foot traffic. The 12 chains that didn't boost their low-cal offerings averaged a 5.5% same-store sales decline. This comes amid sea-change shifts in menu items that saw french fries' share of food sold decline from 24.1% from 24.8% as lower-calorie beverages jumped from 32.4% of the take to 34.1%.
Though the Hudson Institute didn't detail the performances of particular restaurants, establishments surveyed included Denny's (DENN), Panera Bread (PNRA), Romano's Macaroni Grill, On The Border, DineEquity's (DIN) Applebee's and IHOP restaurants, Darden's (DRI) Red Lobster and Olive Garden, Bloomin' Brands' (BLMN) Outback Steakhouse and Carrabba's Italian Grill, and Brinker International's (EAT) Chili's. Those chains have shouldered a hefty portion of blame for the nation's obesity struggles in recent years.
Hank Cardello, lead author of the report and director of the Hudson Institute's Obesity Solutions Initiative, estimated that Americans wolf down upwards of 2,600 calories daily, compared to 2,000 in 1970. Last year, Rand Corp. released a study that found that 96% of entrees sold at chain restaurants exceeded the daily limits for calories, sodium, fat and saturated fat recommended by the Department of Agriculture.
Combined with the the effects of the recession, health concerns have sent casual-dining numbers plummeting. The NPD Group found that not only did casual dining drop 3% last quarter, but it's fallen every quarter since spring of 2010. Also, though adults 65 and over have only increased their visits to such establishments in recent years, NPD Group says people aged 18 through 47 have cut back on the apps and 2-for-$20 deals significantly in the last half-decade.
That's been troubling news for restaurant companies like Darden, whose sales have slipped as Olive Garden and Red Lobster struggle to find the right menu combinations. It's also thrown the entire casual-dining industry into disarray as chains battle each other by offering unsustainably low prices while changing little about the boil-in-bag food customers loathe.
If the chains would stop slugging it out long enough to listen to customers, they might discover that healthier offerings trump the current slop at just about any price.
More on moneyNOW
DATA PROVIDERS
Copyright © 2014 Microsoft. All rights reserved.
Fundamental company data and historical chart data provided by Morningstar Inc. Real-time index quotes and delayed quotes supplied by Morningstar Inc. Quotes delayed by up to 15 minutes, except where indicated otherwise. Fund summary, fund performance and dividend data provided by Morningstar Inc. Analyst recommendations provided by Zacks Investment Research. StockScouter data provided by Verus Analytics. IPO data provided by Hoover's Inc. Index membership data provided by Morningstar Inc.
MARKET UPDATE
[BRIEFING.COM] S&P futures vs fair value: -8.00. Nasdaq futures vs fair value: -19.00. Nasdaq at... NYSE Adv/Dec 0/0... Nasdaq Adv/Dec 0/0.
More Market News