Lawsuit says Red Bull is too wimpy
A complaint in a New York federal court calls out the energy drink for having less caffeine than a cup of coffee.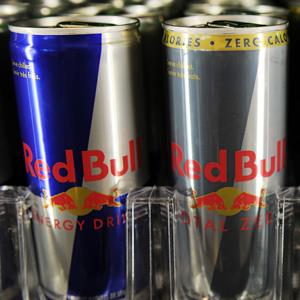 Red Bull is learning what its competition just recently discovered: The U.S. energy drink market is a downer these days.
Red Bull is the target of a lawsuit filed Tuesday that claims the company's "Red Bull gives you wings" slogan is false advertising, according to Reuters, because the energy drink contains less caffeine than a cup of coffee.

The lead plaintiff, Benjamin Careathers of the Bronx, N.Y., has been drinking Red Bull since 2002 and filed the suit in U.S. District Court for the Southern District of New York because he and others in the lawsuit feel the $2.19 price per can isn't getting them enough caffeine.
This is the exact opposite of the problem faced by Red Bull rivals Monster Energy (MNST) and 5-Hour Energy, both of which have been scrutinized by the Food and Drug Administration for packing their drinks with caffeine. The 5-Hour Energy shots have had their "no crash" claim questioned in the New York Times by a national advertising group and have been the subject of reports to the FDA during the last four years citing the possible role of 5-Hour Energy in 13 deaths.
Monster, meanwhile, saw its stock plummet in October after the FDA confirmed "adverse incident reports" of five deaths involving Monster energy drinks. Monster is now being sued by the parents of a 14-year-old Maryland girl who suffered heart problems in December 2011 after drinking Monster Energy on two consecutive days.
The FDA limits caffeine content in soda and considers 71 milligrams per 12 ounces safe for consumption. Energy drinks contain significantly more caffeine, but exploit a loophole in the FDA's caffeine guidelines, labeling themselves "diet supplements," to avoid the limit. For example, 24-ounce Monster drinks contain almost seven times as much caffeine as the most caffeinated sodas.
By comparison, an 8.4-ounce can of Red Bull contains 80 milligrams of caffeine. That roughly 9.5 milligrams per ounce still exceeds the 5.9 milligrams found in an ounce of high-caffeine soda. The lawsuit claims, however, that a tablet of regular strength NoDoz contains 100 milligrams of caffeine and costs only 30 cents.
"Even a 12 ounce serving of Starbucks (SBUX) coffee costs $1.85 and would contain far more caffeine than a regular serving of Red Bull," the lawsuit says. It has a point. A cup of Starbucks regular Pike Place Roast that size has 260 milligrams of caffeine, or more than three times than of a can of Red Bull.
The plaintiffs want Red Bull to stop the "gives you wings" campaign, which would likely put a serious crimp in its annual Red Bull Air Race and its Flugtag airborne soap box derby. More importantly, though, those named in the lawsuit are also asking for an unspecified refund.
Energy drinks make up only 3.3% of soft drink sales, according to Beverage Digest, but sales of the caffeine-laden products rose 17% 2011. Monster and Red Bull both reported double-digit percentage point sales increases in the last year, but the recent spate of energy drink lawsuits suggest a caffeine crash may be coming.
More on Money Now
DATA PROVIDERS
Copyright © 2014 Microsoft. All rights reserved.
Fundamental company data and historical chart data provided by Morningstar Inc. Real-time index quotes and delayed quotes supplied by Morningstar Inc. Quotes delayed by up to 15 minutes, except where indicated otherwise. Fund summary, fund performance and dividend data provided by Morningstar Inc. Analyst recommendations provided by Zacks Investment Research. StockScouter data provided by Verus Analytics. IPO data provided by Hoover's Inc. Index membership data provided by Morningstar Inc.
MARKET UPDATE
[BRIEFING.COM] The stock market finished an upbeat week on a mixed note. The S&P 500 shed less than a point, ending the week higher by 1.3%, while the Dow Jones Industrial Average (+0.1%) cemented a 1.7% advance for the week. High-beta names underperformed, which weighed on the Nasdaq Composite (-0.3%) and the Russell 2000 (-1.3%).

Equity indices displayed strength in the early going with the S&P 500 tagging the 2,019 level during the opening 30 minutes of the action. However, ... More
More Market News