5 reasons China's air became so foul
Coal-fueled power plants, soaring car ownership and decades of scoffing at environmental laws are some factors cited for the thick haze.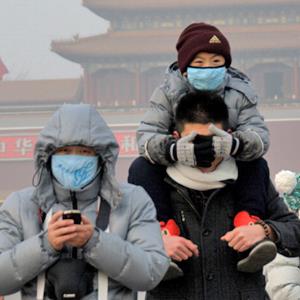 Contrary to the myth, you can't see the Great Wall of China from space. But NASA space satellites can now see remarkable and alarming images of the massive cloud of air pollution that's recently been choking Beijing and some other Chinese metropolitan areas.
The pollution has reduced visibility in some communities to just a few yards. It's also a major health hazard, forcing many people to remain indoors until the haze clears. And it's prompted some soul-searching from the Chinese government and its citizens about what they can do to keep their air clean.
There are several factors, man-made and otherwise, behind the historic levels of air pollution in China.
Industrialization
Economic reforms begun in the post-Mao era of the late 1970s have helped bring hundreds of millions of Chinese out of poverty and into relative financial prosperity -- while making China the world's largest producer of consumer goods. "But there is little question that growth came at the expense of the country's air, land and water," says the New York Times, "much of it already degraded by decades of Stalinist economic planning that emphasized the development of heavy industries in urban areas."
Cars
According to data from the country's auto industry, China was the world's largest producer and market for automobiles for the fourth consecutive year in 2012 -- with auto sales at 19.31 million units and production at 19.27 million vehicles. China's Xinhua News Agency acknowledges that "carbon monoxide, nitrogen oxide and other pollutants emitted by motor vehicles are among the major contributors to the air pollution problems like smog and acid rain that frequently occur in some Chinese cities." The country's Ministry of Environmental Protection says it is "vigorously" working to reduce vehicle exhaust emissions.
Coal
China is king when it comes to coal usage. The World Resources Institute says it took the country only three years to change from an exporter of coal to world's largest net importer of coal in 2009.
Coal accounts for almost 80% of China's power production and 70% of its overall energy consumption. And burning coal without the proper filters produces large amounts of particulate pollution like soot, as well as chemicals like mercury, sulfur dioxide and nitrogen oxide. But the International Energy Agency says China is trying to lessen its reliance on coal by doubling natural gas use from the 2011 levels by 2015. The government is also searching out new energy sources to eventually replace coal.
Weather
Winter in China means more coal is burned for heating needs, which leads to greater air pollution. And according to CBS News, there's been little to no wind lately in Beijing to help break up accumulating pollutants. "Emissions from factories and heating plants, fumes from millions of vehicles and the burning of coal bricks to heat homes often conspire to blanket the city in a pungent haze," says Reuters, "that can become trapped over the city when weather conditions are right." And of course, the dust storms from the Gobi Desert that periodically engulf Beijing don't help air conditions, either.
Non-enforcement of pollution regulations
China's anti-pollution laws have been ignored or flouted by local and regional leaders for decades in favor of industrial projects that may spew out toxic smoke but bring in money. The Financial Times says both Chinese and international experts point to "the willingness of officials at all levels to sacrifice environmental concerns for the overriding imperative of economic growth" as one of the biggest problems facing China's government.
"There has been a long-term buildup to this problem, and the resolution will require a long-term process. But we must act," Reuters quoted Vice Premier Li Keqiang as saying on Tuesday. Li is expected to take over as Chinese premier in March. 
More on Money Now

Been there, done that. I traveled in China in summer 2011, winter 2003 and fall 2000. Never needed any fancy device to tell that air quality was mediocre at best or even poor. Smog is present in many cities and even in rural areas. I remember driving through a region known for its ceramic tiles making. Smokestacks were prevalent and air quality was poor. You can't see across the streets in Beijing in winter. No surprise here: They completed the sixth beltway around the capital three years ago and they are filled with vehicles. Of course the general use of coal is detrimental to air quality. Never mind the chemical industries releasing pollutants in the rivers, killing fishes, causing cancers and destroying ways of life. Did I mention overpumping of the underground water? China is currently crashing against the environmental wall and corruption has been helping this process as officials are bought and paid for to look the other way. 
Are you sure you want to delete this comment?
DATA PROVIDERS
Copyright © 2014 Microsoft. All rights reserved.
Fundamental company data and historical chart data provided by Morningstar Inc. Real-time index quotes and delayed quotes supplied by Morningstar Inc. Quotes delayed by up to 15 minutes, except where indicated otherwise. Fund summary, fund performance and dividend data provided by Morningstar Inc. Analyst recommendations provided by Zacks Investment Research. StockScouter data provided by Verus Analytics. IPO data provided by Hoover's Inc. Index membership data provided by Morningstar Inc.
MARKET UPDATE
[BRIEFING.COM] The stock market finished an upbeat week on a mixed note. The S&P 500 shed less than a point, ending the week higher by 1.3%, while the Dow Jones Industrial Average (+0.1%) cemented a 1.7% advance for the week. High-beta names underperformed, which weighed on the Nasdaq Composite (-0.3%) and the Russell 2000 (-1.3%).

Equity indices displayed strength in the early going with the S&P 500 tagging the 2,019 level during the opening 30 minutes of the action. However, ... More
More Market News