Your signature no longer matters
The rise of e-commerce has diminished the importance of your John Hancock.
This post comes from Ian Salisbury at partner site MarketWatch.

President Barack Obama's new pick for Treasury secretary has so far received more attention for his loopy signature than for his views on fiscal policy. But lost in the jokes about Jack Lew's John Hancock is that, in a digital world, signatures are losing relevance as well as legibility.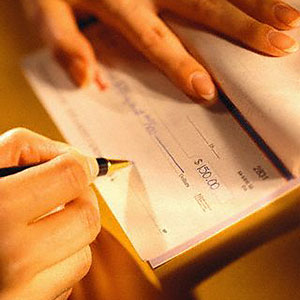 For generations, people have scribbled their names as a way to authenticate documents. But the rise of e-commerce and mobile-payment technologies that allow people to use cellphones to buy lattes may render the well-practiced autograph obsolete.
"We're clearly going to see signatures less and less," says Doug Johnson, vice president for risk management policy at the American Bankers Association.
As recently as the 1980s, most Americans had to sign their name every time they wrote a check or used their credit card (often pressing hard to ensure that it would show up on the carbon copy). That all began to change a decade ago as banks increased their back-office computing power and Americans did more shopping online, where there is no one to hand you a pen.
Credit card companies quickly learned to substitute new and better ways to verify the identity of customers. Among the common methods: instantly cross-referencing your card number with your ZIP code, checking that three- or four-digit security code number on the back of the card and using sophisticated algorithms to detect unusual buying patterns. If you can find a way to buy gas in New York one hour and dinner in Miami the next, there's a good chance you'll get a call from your card issuer.
In recent years, MasterCard and Visa have moved to allow shoppers to buy inexpensive goods -- generally those costing less than $50 -- without a signature even when they are in brick-and-mortar stores. While that kind of lowered security can make it harder to detect some types of fraud, for many merchants -- especially convenience store chains and fast-food joints -- the few seconds they save by shortening checkout lines have a bigger impact on their bottom line, according to big card companies.
Debit cards, another popular invention of the past generation, allow customers to choose whether to sign by pen or PIN. (The roughly $1 billion a year in debit card fraud is split more or less evenly between the two types of transactions.) The PIN provides an extra layer of security, but signing remains more popular as a matter of habit, according to the ABA's Johnson.
The eventual game changer, according to the ABA: when people get used to buying things by swiping their cellphones rather than using plastic cards.
Not everyone agrees that the rise of e-commerce will diminish the importance of signatures. While electronic payments have taken over from paper ones, it wasn't all that long ago that people simply used cash for most transactions, says Ben Wright, a Dallas lawyer who specializes in e-commerce. "In the old days I didn't use my credit card to buy groceries." We may, in fact, be signing our name more -- not less.
And one place signatures won't disappear from is the check. Of course, with plastic and other new services like direct deposit, checks are becoming less prevalent. But the law is on their side. Checks aren't enforceable without a signature. And checks remain the payment method of choice for many big-ticket transactions. (Good luck making a down payment on a condo with your debit card.)
Even checks aren't immune from modern technology, though. Technically, a signature is just some kind of identifying mark and doesn't need to be your name written with a pen, according Paul Carrubba, a lawyer who specializes in such transactions.
Many corporate issuers now just use a computer to print the name of the one of their executives, he says. If they wanted to, they could print an X. Of course, once upon a time, that is just what many of us did.
More from MarketWatch and MSN Money:

  I guess I've qualified as an "old fart".  I grew up under the idea that a hand shake and eye to eye contact was a deal, a contract, a bargain.  It was a agreement between honorable men that was as true and binding as anything any number of pages a room full of lawyers could write. It was the word of a man and his good name  to another man.  Honor, and truth was to be upheld at all cost and loss of honor was a publicly  held crime against civility, and gentility, with penalty of ostracism and public rejection of relationship and contact.  Some how I think that we have lost something quite valuable.
The signature of a  mans name on a paper was as binding as the money in the bank or a hand on the Bible oath.  Our forefathers felt this way as they signed the Declaration of Independence, therefore I feel it is my duty to them and to this country and for what it stands to do the same.  Take your credit, debit, and whatever cards and their pin numbers and go away, if my name is on it take it to the bank, I GUARANTEE IT WITH MY HONOR.

I know it's just a throw-away line meant to be humourous and really has nothing to do with the article, but this...:
"President Barack Obama's new pick for Treasury secretary has so far received more attention for his loopy signature than for his views on fiscal policy."
...pretty much sums up why the US is in the financial shape it's in.
Are you sure you want to delete this comment?
DATA PROVIDERS
Copyright © 2014 Microsoft. All rights reserved.
Fundamental company data and historical chart data provided by Morningstar Inc. Real-time index quotes and delayed quotes supplied by Morningstar Inc. Quotes delayed by up to 15 minutes, except where indicated otherwise. Fund summary, fund performance and dividend data provided by Morningstar Inc. Analyst recommendations provided by Zacks Investment Research. StockScouter data provided by Verus Analytics. IPO data provided by Hoover's Inc. Index membership data provided by Morningstar Inc.