6 tricks for faster customer service
Use these techniques to reach a real person and avoid time moving from phone tree to phone tree or being put on hold.
This post comes from Jeffrey Trull at partner site Money Talks News.

Dealing with customer service need not be a frustrating experience, characterized by an endless phone tree or being placed on hold.
There are now ways -- via technology and social media -- to reach a real person and get your problem resolved. 
1. Use GetHuman to reach a real person directly.
Phone trees that answer questions with a recorded response are confusing and, if you know you need help from a person, a waste of time. GetHuman reveals the shortest path to reach a live customer service representative. The site has listings for more than 8,000 companies, with solutions provided by customers.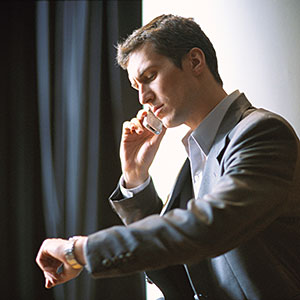 2. Hang up instead of holding by using LucyPhone.
Once you get through to customer service, there's the possibility of being stuck on hold. LucyPhone, a free service, lets you hang up and get a call back when customer service is on the line.
With LucyPhone's website or mobile app, you search for the company you need to contact, and LucyPhone connects you to the customer service line. Once you're on hold, just hit "**" and hang up. 
3. Get customer service to call you with FastCustomer.
If you don't want to fight through the phone tree at all, FastCustomer gets a representative to contact you. Search for the company you want to contact on their website or by using their mobile app, enter your phone number, and FastCustomer will take care of the rest. Their service also lets you know what the current wait time is.
More than 3,000 companies are available, including Apple, Verizon, Bank of America and AAA.
4. Beat the phone trees with a few tricks.
You don't have to use new technology to fight through phone tree options. There are a few basic ways to reach a real person that work with many companies.
First strategy: Play dumb. Keep pounding the "0" button on your phone until you get someone on the line. 
Another possibility is to listen to the entire list of options rather than choosing the first one that sounds right. Listen for choices near the end like "for all other questions." Even if these don't get you to the right department, getting a person on the phone often means they can transfer you to the right one.
5. Text for customer service with TalkTo.
Skip the talk entirely and text instead. TalkTo is an app that lets you send a text message to any business to complete a wide range of activities, such as asking if an item is in stock or making a dinner reservation.
6. Take your problem public on social media.
By tweeting the company you're trying to reach or posting on their Facebook page, it's possible you'll get a faster response. Many companies now monitor social media and are eager to avoid viral public-relations disasters.
Don't assume you have to leave a nasty message to get service. A friendly question is often enough to get your problem solved. Some companies are putting more emphasis on responding to customer service questions made on social media.
More on Money Talks News and MSN Money:
Are you sure you want to delete this comment?
DATA PROVIDERS
Copyright © 2014 Microsoft. All rights reserved.
Fundamental company data and historical chart data provided by Morningstar Inc. Real-time index quotes and delayed quotes supplied by Morningstar Inc. Quotes delayed by up to 15 minutes, except where indicated otherwise. Fund summary, fund performance and dividend data provided by Morningstar Inc. Analyst recommendations provided by Zacks Investment Research. StockScouter data provided by Verus Analytics. IPO data provided by Hoover's Inc. Index membership data provided by Morningstar Inc.