Romney vs. Obama: Where their money goes
Here's a look at President Obama's and Mitt Romney's homes, cars and clothes closets.
This post comes from Renee Morad at partner site Money Talks News.

As the presidential race heats up, Americans are trying to assess the spending priorities of President Barack Obama and Republican challenger Mitt Romney on everything from Social Security to health care.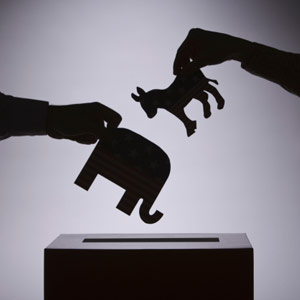 We're tuning in to speeches, debates and news articles to understand the presidential candidates' values. But as we consider what these men will do with taxpayers' money, perhaps we can learn something from how they spend their own.
Romney's net worth is estimated at $250 million; Obama's is about $11 million. Here are some details about their big purchases over the years.
Homes
Romney
Mitt and Ann Romney own a 3,009-square-foot Mediterranean-style beachfront property in La Jolla, Calif. Romney purchased the home for $12 million in 2008. The house, built in 1936, has three bedrooms, 4.5 bathrooms and a deck with a lap pool and spa. But it may not be there for long. In 2011, he filed an application with La Jolla officials to bulldoze the single-story home and replace it with a larger, two-story home.
The Romneys purchased a 13-acre property on the shore of Lake Winnipesaukee in Wolfeboro, N.H., for $2.5 million to $3 million in 1997. The main house is 5,400 square feet, and there's also a boathouse (valued at $630,000) and a horse stable with guest houses above it. The assessed value of the estate was $8 million in July. 
In addition to his California and New Hampshire homes, Romney bought a 2,100-square-foot, two-bedroom townhouse in the Woodlands at Belmont Hill, in Massachusetts, for $895,000 in June 2010. In the past, Romney owned a larger estate in Belmont, Mass., which he sold for $3.5 million in 2009, and a ski home in Park City, Utah, which he sold for about $5.25 million in 2009.
Obama
Obama and first lady Michelle own a 6,199-square-foot brick home in Chicago. They purchased the property, built in 1917, for $1.65 million in 2005.
That's the only home the Obamas own. However, the New York City apartment he rented while a student at Columbia University in the 1980s was recently on the rental market, according to Zillow -- with a price tag of $2,400 a month for two bedrooms and one bath.
Cars
Romney
Back in February, Romney discussed his family's collection of cars during a speech in Detroit.
"I love this country. I actually love this state. It just feels good, being back in Michigan," Romney said. "I like the fact that most of the cars I see are Detroit-made automobiles. I drive a Mustang and a Chevy pickup truck. Ann drives a couple of Cadillacs, actually. And I used to have a Dodge truck, so I used to have all three (major automakers) covered."
According to CBS News, Romney's campaign quickly issued a clarification explaining that Ann's cars are 2007 and 2010 Cadillac SRX models, and that one of them is at the family's house in California, while the other is at their Massachusetts residence.
To accommodate his car collection, there have been rumors that Romney plans to build a "car elevator" for his four-car garage during his California home renovations.
Obama
Obama leased a fully loaded 2005 Chrysler 300C when he was a U.S. senator. He ditched the Chrysler in the summer of 2007 when he launched his presidential campaign and decided to lease a more fuel-efficient 2008 Ford Escape Hybrid. 
According to used-car authority Kelley Blue Book, Obama's former Chrysler 300C is valued at $19,142. In early 2009 when Obama took office as president, veteran eBay car seller Lisa Czibor, who lives near Chicago, tried to sell the car for $1 million -- with the help of a posted photo of the car's title in Obama's name.
As for the Ford Escape, it was returned to the Illinois dealership in 2010. The vehicle was put up for auction, but no further details were released.
Clothing
Romney 
Mitt Romney's longstanding reputation for wearing tailored suits and ties traces back to his early days at Bain Capital. Back in 2007, when Time magazine put Romney on its cover, the headline read, "Sure, he looks like a president."
More recently, however, Romney has been opting for Kirkland-brand dress shirts that cost $18 at Costco, prompting speculation that he's trying to better relate to everyday Americans on the campaign trail.
Ann Romney claims she's an avid Costco shopper as well, but has also been seen sporting pricey attire: Her $990 Krakoff T-shirt drew criticism this spring after her appearance on CBS' "This Morning."
In August, a knee-length Oscar de la Renta dress Ann wore during a speech at the Republican National Convention in Tampa, Fla., also created buzz. The Financial Times' fashion editor said the dress cost somewhere between $2,090 and $2,490. 
Obama
Obama has made appearances in suits that cost an estimated $1,500. But that's nothing compared with Michelle Obama's occasional splurges. She wore a $6,800 jacket from designer J. Mendel to a reception at Buckingham Palace for the opening of the London Olympics, for example.
During less lavish soirees, Michelle is often dressed in a more subtle fashion, such as a dress by Tracy Reese paired with pumps from J. Crew. The dress has not yet been produced, but similar versions cost $395 to $450.
It's worth adding that Michelle's fashion often comes without a price: She sometimes receives wardrobe items from top designers like Jason Wu for free, months before the fashion lines hit stores. Oh, the luxuries of being first lady.
More on Money Talks News and MSN Money:
DATA PROVIDERS
Copyright © 2014 Microsoft. All rights reserved.
Fundamental company data and historical chart data provided by Morningstar Inc. Real-time index quotes and delayed quotes supplied by Morningstar Inc. Quotes delayed by up to 15 minutes, except where indicated otherwise. Fund summary, fund performance and dividend data provided by Morningstar Inc. Analyst recommendations provided by Zacks Investment Research. StockScouter data provided by Verus Analytics. IPO data provided by Hoover's Inc. Index membership data provided by Morningstar Inc.