I can't claim my $10 from Facebook
Facebook has settled a class-action lawsuit over its use of members' names and faces in advertisements, an email sent to 125 million users says.
This post comes from Kashmir Hill at partner site Forbes.

I was among the approximately 125 million Facebook users who got an email this weekend alerting us to the settlement of a class-action lawsuit against the social networking giant for putting our names and faces in "Sponsored Story" ads that were broadcast to our friends. (Read about the settlement on the Fraley vs. Facebook website-.)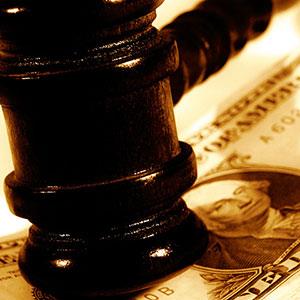 So, because I "like" Starbucks on Facebook, my friends may have seen an ad reminding them that I like Starbucks and encouraging them to mainline a latte at the next possible opportunity. Other people wound up fronting far more embarrassing endorsements. Luckily for me, I've never chosen to give any particular brand of sexual lubricant the thumbs up, but I'm still entitled to up to $10 from Facebook, according to the terms of the settlement.
Facebook is settling the suit for $20 million, an amount that will cover the class-action lawyers' fees -- just under $8 million -- with the rest either being divvied up among Facebook's affected users or, if the demand is too great from users, being divvied up among 14 nonprofits that work on privacy and technology issues that purportedly help the members of the class.
Facebook members will get between $5 and $10 each, unless so many people claim the money that the amount per person falls below $5. (By my estimate, that happens if around 2.5 million people sign up.) In that case, the money goes to the nonprofits.
I'd argue the money does more good with organizations like the Center for Democracy and Technology, the Electronic Frontier Foundation, Stanford's Center for Internet and Society, and Santa Clara Law School's High Tech Law Institute -- all of which have provided sources for my stories in the past. (For disclosure's sake, I should note that two of my current roommates work for EFF.)
Thinking that about $1 million each for the nonprofits was better than each member of the class getting enough to buy two lattes, my plan was to claim my award to help reach the threshold of claimants that triggers the funds going to those groups. But once I started the claim process, I realized I couldn't do it. To submit my claim, I had to agree to the following:
"4. ATTESTATIONS.

"IN ORDER TO QUALIFY FOR POSSIBLE PAYMENT, YOU MUST BE ABLE TO MAKE THE DECLARATIONS BELOW, UNDER THE PENALTY OF PERJURY.

"I declare the following:

"1. I understand that a story about some action I took on Facebook (such as liking a page, checking in at a location, or sharing a link), along with my name and/or profile picture, may have been displayed in a Sponsored Story shown to my Facebook Friends who were authorized by me to see that action."
I'm good on that one. I did understand that, because I wrote about it when it was first announced back in January 2011. Though I was a little surprised to later learn that Facebook would put ads around simply sharing a link. As Nick Bergus attests on his blog, that means the context can be easily lost. A link posted in outrage could wind up being something you later appear to endorse.
"2. I was not aware that Facebook could be paid a fee for displaying actions such as these, along with my name and/or profile picture, to my Facebook Friends."
That's where they get me! I did know that "Sponsored Stories" were a "payday for Facebook." I'm very curious how many of the 125 million didn't know that Facebook was making money this way.
"3. If my name and/or profile picture was displayed in a Sponsored Story, I believe I was injured by that display."
They've got me there too. I've been pretty forthright here about understanding that companies that offer us free services have to find creative ways to monetize. Back in 2009, I wrote a post entitled, "Facebook wants to use my face for ads. OK," where I admitted that " I don't care" if they use my face in ads. So . . . I feel like I'm in potential perjury trouble with this one. And other members might feel that way, too.
"I think that the money is better given to the designated nonprofits, but the wording of these declarations seems to frustrate this goal. These declarations demand a high degree of certainty from individuals, yet only general details about the conduct in question are provided," says Samford University law professor Woodrow Hartzog.
"Without actually being confronted with how your name and likeness was used, it's difficult to say anything in this context with legal certainly," he said. "In my mind, the real problematic theme running throughout all of this is boilerplate. Far-reaching, non-negotiable terms are seemingly just as problematic in obtaining administrative clearance as they are for obtaining consent to the questionable practices at issue."
"4. I am submitting only one Claim Form, regardless of how many Facebook accounts I have."
Sorry, Facebook scammers!
"5. I understand that I am releasing all claims that I have against Facebook and all other 'Released Parties' as set forth in Section 5 of the Settlement Agreement (available at 'www.fraleyfacebookse​ttlement.com/court')."
I am not in fact going to be joining the class and releasing my claims. So watch out, Facebook . . . though it's not like I really mind. What Facebook could do to keep me happy, though, is to let me know when ads are being run using me and my Likes. The current solution for opting out of these is inelegant at best and the lack of any kind of ad review process is disappointing.
More from Forbes and MSN Money:

I was upset to see ads from a decesed friend of mine who's facebook account was never deleted... a friend of mine who died before this went "advertisement" went into affect...
I'd log onto my phone and see my friend who passed away had liked a particular candy bar...with the ad following
it really wasn't cool...
especially since it was an ad created from "liking" something so long ago... 

I had a similar response to a class action that was taken against a retailer that asked for my address for marketing purposes (a maternity clothing store was cross-marketing with other "new parent" oriented vendors). I knew why they were doing it and I wanted to receive the info so I was dumbfounded when they were sued.
They wound up sending a coupon to everyone whether they joined the class or not.
Are you sure you want to delete this comment?
DATA PROVIDERS
Copyright © 2014 Microsoft. All rights reserved.
Fundamental company data and historical chart data provided by Morningstar Inc. Real-time index quotes and delayed quotes supplied by Morningstar Inc. Quotes delayed by up to 15 minutes, except where indicated otherwise. Fund summary, fund performance and dividend data provided by Morningstar Inc. Analyst recommendations provided by Zacks Investment Research. StockScouter data provided by Verus Analytics. IPO data provided by Hoover's Inc. Index membership data provided by Morningstar Inc.