18 financial facts about presidents
As we prepare to observe Presidents Day, let's remember that past commanders-in-chief have had financial ups and downs just like the rest of us.
This post comes from Len Penzo at partner blog Len Penzo dot Com.

It may seem hard to believe at times, but the 44 Americans who have had the good fortune of being called "Mr. President" are really no different from the rest of us.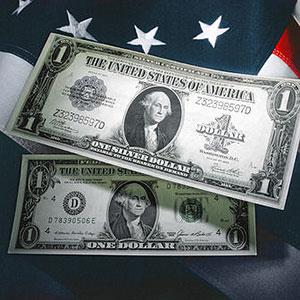 Oh, sure, sitting U.S. presidents may be considered the most powerful men in the free world, but at the end of the day they still put their pants on one leg at a time. Yes, some were financially successful during their lives, but there were  others who encountered serious financial troubles.
To prove it, here are a few facts regarding the personal finances of some of our presidents:
Long before he became the 33rd president of the United States, Herbert Hoover was a mining engineer. It turned out to be a wise career choice. Not long after graduating from Stanford University, Hoover went to work in Australia's goldfields. His starting inflation-adjusted annual salary: $133,000.
Hoover eventually moved up the ranks to become a mining industry executive. He was also a shrewd investor -- so much so that Hoover eventually amassed an inflation-adjusted net worth of $71 million.
Speaking of smart investors, in 1989 George W. Bush paid $600,000 to become a co-owner of Major League Baseball's Texas Rangers. Shortly before being elected America's 43rd president, Bush sold his stake in the team for approximately $14.9 million.
Since 2001, sitting presidents have received an annual base salary of $400,000. They also get a $50,000 annual expense account, and a $100,000 nontaxable travel account.
The president also gets $19,000 annually for entertainment. That's enough cash to pay for 38 rounds of golf at Pebble Beach. Don't scoff. The cart is included.
Who says U.S. presidents are overpaid? If Barack Obama received the same annual rate of pay as George Washington did back in 1789 -- 2% of the U.S. budget -- our 44th president would be collecting a cool $66.6 billion this year, give or take several billion. But who's counting?
Of course, Washington didn't really need his presidential salary. Before becoming president, he was one of the richest men in North America.
Much of Washington's early wealth was gained after marrying his wife, Martha. She had become a very wealthy widow after her first husband, Daniel Parke Custis, passed away. For what it's worth, Custis was an extremely successful planter who also happened to be 20 years older than Martha.
It's a good thing Washington had a lot of money. He loved spending it and lived an aristocratic lifestyle.
Unfortunately, shortly after marrying Martha, Washington's tobacco export profits began drying up. As a result, he racked up large debts to a London merchant named Robert Cary, who was responsible for selling Washington's tobacco overseas.
Within a few years, Washington clawed his way out of debt by cutting back on his expenses, diversifying his income stream and paying more attention to his finances. Washington successfully expanded his tobacco farming business to include other crops. He also diversified his operations into other areas, including fishing, horse breeding and even whiskey production.
The Father of Our Country wasn't the only president with occasional money problems. Thomas Jefferson was in debt for much of his life. Upon his death in 1826, Jefferson owed $100,000 to his creditors. That's equivalent to almost $2 million in today's inflation-adjusted dollars.

In 1893, William McKinley declared bankruptcy in Ohio while serving as governor of the state. That didn't stop McKinley from becoming the nation's 25th president just three years later.
As a young man, Abraham Lincoln decided to enter the grocery business with a partner named William F. Berry. After Berry died, Lincoln was stuck with so many unpaid bills that the future president called it "The National Debt."
Speaking of bad business deals, after serving as America's 18th president, Ulysses S. Grant invested his money with a brokerage firm run by Ferdinand Ward. Unfortunately for Grant, Ward was a swindler who ran the company as a Ponzi scheme, a la Bernie Madoff. When Ward's scheme finally unraveled in 1884, Grant was left nearly penniless.
After losing his money, Grant sold all of his Civil War mementos in an attempt to make good on an outstanding personal loan of $150,000 he had received from railroad mogul William H. Vanderbilt. Although Grant was unable to raise enough funds to completely repay the loan, Vanderbilt declared the loan paid in full.
The 33rd president, Harry S. Truman, lost $30,000 after his clothing store failed in 1922. That's equivalent to $400,000 in today's dollars. Even so, he never declared bankruptcy. It took Truman a dozen years before he was finally able to get his finances back in the black.
By the way, Truman's middle initial doesn't stand for anything. I know, I know. That's not a financial fact. But it would have been if his parents had named him Harry $ Truman.
More on Len Penzo dot Com and MSN Money:
Are you sure you want to delete this comment?
DATA PROVIDERS
Copyright © 2014 Microsoft. All rights reserved.
Fundamental company data and historical chart data provided by Morningstar Inc. Real-time index quotes and delayed quotes supplied by Morningstar Inc. Quotes delayed by up to 15 minutes, except where indicated otherwise. Fund summary, fund performance and dividend data provided by Morningstar Inc. Analyst recommendations provided by Zacks Investment Research. StockScouter data provided by Verus Analytics. IPO data provided by Hoover's Inc. Index membership data provided by Morningstar Inc.