How to spot a lottery scam
An 82-year-old Florida woman has been targeted by scammers claiming she's won foreign lotteries but demanding that she send money to claim the prizes.
This post comes from Trisha Sherven at partner site Money Talks News. 

Reta is a feisty, fit, fun-loving 82-year-old who three years ago received a call that changed her life. The caller told Reta she'd won a big sweepstakes, and would soon be receiving two new cars. All she had to do was send cash to cover taxes and handling fees. Reta complied.
Several weeks later, another call: After one more small fee, her cars would be arriving. Anticipating the photographers she was told would be there, she went to the salon and had her hair and makeup done. She dressed in a new outfit and even had a professional photo of her own taken to remember the day.
As you may have guessed, the cars never came. But what did were more calls promising prizes. Hundreds of them -- sometimes dozens in a single day.
How it happens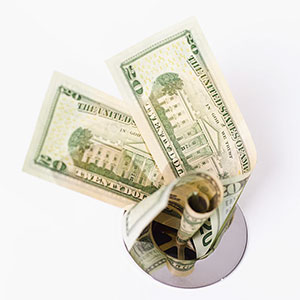 According to the U.S. Postal Inspection Service spokesperson we interviewed, Americans lost $42 million to foreign lottery scams from 2010 to 2012.
Con artists target people like Reta -- trusting, alone and elderly. Packaged as lotteries, sweepstakes, cash prizes or charity giveaways, the scams have one thing in common: money up front to cover taxes or other expenses.
Fall for it once, and you'll have an endless stream of mail and calls, not just from the original crooks but dozens more who bought your name.
How to prevent it
As in Reta's case, victims are at first too embarrassed to report rip-offs or ask for help. Friends and family are often the first to notice something's wrong. Signs to watch for:
The person mentions a lottery or sweepstakes.
The person receives strange phone calls, especially out-of-country calls.
The person gets requests to send money.
The person is unusually secretive. 
The person gets lots of mail.
Reta has lost tens of thousands of dollars. And the phone never stops ringing. In the hour we were there, she got three calls from different people, including two after a postal inspector answered and told the caller the phone was tapped and never to call again.
When she began entering contests and paid the "prize fee" with a check or credit card, the scammers got her bank account and credit card information. When she changed her phone number, they sent mail tricking her into revealing the new one.
Friends and law enforcement agents are helping, but the thieves are both clever and relentless. They've even called claiming to be federal agents, saying they'd found some of her money, but that she needed to send one more envelope stuffed with cash so they could trace it.  
The U.S. Postal Inspection Service, FBI, Federal Trade Commission, the Jamaican government, and other state and local law enforcement agencies have been working together to stop this kind of fraud. There have been arrests, but the process of bringing the scammers to justice is difficult.
In addition to believing the old adage, "If it sounds too good to be true, it probably is," here are some FTC tips to avoid becoming a victim:
Don't send money to someone you don't know, and don't ever send cash.
Don't agree to deposit a check and wire money back.
Don't reply to messages asking for personal or financial information.
Don't play a foreign lottery.
Remember, you can't win a contest you didn't enter. And playing a lottery in a foreign country is illegal for U.S. citizens.
If you suspect you or someone you love is a victim of a foreign lottery scam, contact the U.S. Postal Inspection Service and file a complaint. 
More on Money Talks News and MSN Money:
DATA PROVIDERS
Copyright © 2014 Microsoft. All rights reserved.
Fundamental company data and historical chart data provided by Morningstar Inc. Real-time index quotes and delayed quotes supplied by Morningstar Inc. Quotes delayed by up to 15 minutes, except where indicated otherwise. Fund summary, fund performance and dividend data provided by Morningstar Inc. Analyst recommendations provided by Zacks Investment Research. StockScouter data provided by Verus Analytics. IPO data provided by Hoover's Inc. Index membership data provided by Morningstar Inc.