7 tips to reduce your restaurant bill
Want to take a bite out of your dining budget? Try these tips to lower the cost without sacrificing a good time.
This post comes from Amanda Geronikos at partner site Money Talks News.

The most obvious way to spend less at restaurants is simply to avoid them.
Then your best friend gets engaged and wants to go out for a celebratory meal. Your sister's birthday follows, which necessitates a trip to her favorite Greek restaurant. Your co-workers want to go out for lunch, and you obviously can't miss that. Throw in an anniversary dinner and the fact that you want to try IHOP's Red Velvet Pancakes, and suddenly you've spent hundreds of dollars on dining out. In fact, the average household spends about $2,500 at restaurants every year, according to the National Restaurant Association.
While we can't avoid restaurants completely, we can find ways to save some dough when dining out. 
1. Use coupons and promotions
Sign up for daily deals sites like Groupon and LivingSocial, where you can find discounts for 50% to 90% off. You can score bargains like a hibachi dinner for two at Yokohama Japanese Restaurant in Maple Shade, N.J., for half off. It's a great way to try out a new restaurant at a more affordable price.
Also take advantage of restaurant promotions. For instance, Applebees consistently offers a two-for-$20 deal, which includes two meals (you select from a list of  entrees) and an appetizer. Olive Garden is popular for its limited-time offers, such as unlimited soup, salad and breadsticks.
If you live near a city, take advantage of Restaurant Week, when many restaurants offer delectable deals on otherwise expensive dining experiences.
2. Buy cheap gift certificates
Visit Restaurant.com, where you can browse local restaurants and buy discounted gift certificates such as $25 certificates for $10, or $50 certificates for $20. The site lists more than 18,000 restaurants nationwide. A recent quick search for restaurants in Philadelphia turned up $15 worth of fare from Mexican Post for just $6.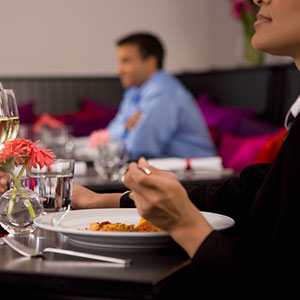 3. Skip the booze
Alcohol isn't cheap, especially at restaurants. If you order wine by the glass, you could be looking at a 400% markup. And as delicious as they are, fancy, fruity drinks are also overpriced. Even at a budget-friendly chain restaurant, you could end up paying as much as $7 for a strawberry daiquiri.
Soda isn't much better. You can pay 300% to 600% over cost. While it's not as pricey as alcohol, that still adds up. The cheapest (and healthiest) route, of course, is to order water.
4. Order an entree that includes extras
If you're going to spend more than $10 on a dinner entree, it should include a soup, salad or dessert. If you can't eat everything, take the rest of your meal home or purposely save some leftovers.
Breakfast is no exception: Ordering something that includes coffee can save you a buck or two.
5. Order an appetizer as your meal
Appetizers like quesadillas or chicken wings can easily be a sufficient meal, especially because they are usually served in portions big enough to share. What's more, they are often half the price of an entree. Consider having everyone at the table order an appetizer to share, and you'll have a wide variety of food to munch on and will benefit from savings, too.
6. Check your bill
This one might seem obvious, but check your bill for accuracy, especially if you make changes to your order after placing it, which can add to the margin of error.
If you think you paid too much for a mediocre meal, don't be afraid to politely mention it to your server. We've all ordered a chicken dish that included more pasta than chicken. Rather than being annoyed about paying top dollar for a bowl of pasta, say something. Maybe you'll score a discount or gift card -- or even a free meal.
7. Earn cash back through surveys
By signing up for iDine, you can earn 5% to 15% back when you dine out by completing a survey within 30 days of your meal. For every survey you take, you'll earn cash back. When you reach $20, iDine will mail you an American Express gift card.
More from Money Talks News and MSN Money:
DATA PROVIDERS
Copyright © 2014 Microsoft. All rights reserved.
Fundamental company data and historical chart data provided by Morningstar Inc. Real-time index quotes and delayed quotes supplied by Morningstar Inc. Quotes delayed by up to 15 minutes, except where indicated otherwise. Fund summary, fund performance and dividend data provided by Morningstar Inc. Analyst recommendations provided by Zacks Investment Research. StockScouter data provided by Verus Analytics. IPO data provided by Hoover's Inc. Index membership data provided by Morningstar Inc.
SMART SPENDING
10 things we pay too much for
Sure, you love your stuff. Keep buying it, but don't get sucked into paying a premium when perfectly good cheaper alternatives are available.