Vegas man does not have your cellphone
Thanks to a glitch, Sprint users who have lost a phone are led to believe it's in a North Las Vegas home. It's not.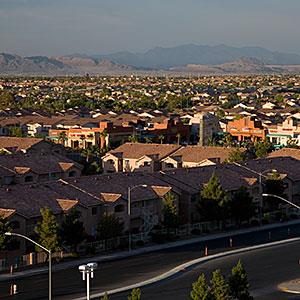 Wayne Dobson of North Las Vegas has a problem that only the era of GPS and cellphones could have wrought.
When some Sprint users have lost their phones and used location-tracking technology to find it, they've been erroneously directed to Dobson's residence. They often show up with friends at late hours, and some angry confrontations have resulted, the Las Vegas Review-Journal reports.
On two occasions, police have used the same technology to track the location of 911 calls made on cellphones and were incorrectly sent to the home of Dobson, who is 59 and retired. One time, he was taken outside and searched.
This has been going on since 2011, the newspaper says. It has happened seven times, including those two visits from police. The Review-Journal said:
"The problem appears to be limited to some owners of Sprint phones. Company officials said they are researching the problem, which has forced Dobson to sleep near his front door on weekends so he can answer the door quickly at all hours. . . .

 

"'We will research the issue thoroughly and try to get to the bottom of what is going on and if it has anything to do with our company,' spokeswoman Rachael Crocker wrote in an email."
Could someone please help this man? Meanwhile, Dobson has been very reasonable. "I understand why people are upset. These are $300 or $500 devices," Dobson told ABC News. "I'm worrying about someone showing up in an agitated state, are drinking, and if that one person has a weapon perhaps. This is Las Vegas."
He took the problem public when he told the Clark County Board of Commissioners that the problem is a public safety one, since police have been sent to the wrong location, MyNews3.com reported.
Some think the problem is due to the location of a cellphone tower near his house, but experts contacted by the Review-Journal expressed doubts.
Should this make you rethink your decision to drop the land line and depend entirely on your cellphone for 911 calls? Not really, since you'll usually be able to tell the dispatcher your location, and that land line won't help when you're away from home. Adds the Review-Journal:
"Cellphone companies came up with a way to locate the phones and instantly transmit their coordinates to dispatchers. Today, as 70% of phone calls to 911 are made by cellphones, dispatchers can see where they are calling from. The information must be accurate to within 50 to 300 meters, depending on the type of technology used."
More from MSN Money:

When the Federal government, the politicians, clean up their act and get serious about cutting spending, real cuts, not just not increasing spending, and when ALL people in America pull their weight and not rely on the workers and tax payers in America to provide their living then we can start talking about everyone paying more taxes. Only 53 percent of Americans pay taxes, imagine if that number was 70 or 80 percent. As it is our children and our children's children will be faced with trillions of dollars in dept to pay off . . . if we don;t go bankrupt first.


Just a reminder as a boomer we helped pay for debt our forefathers left WWII, Korean War, the Marshall Plan and now the Vietnam war, So youngsters like Eric Kantor stop the whining, God most of us also served in VietNam  something he would never do. Yes, everyone could pay more and at high rates. halt all the Corporate Welfare, and when CEO and there Broads allow behavior like that in the last bus put them all in Jail for 10 years and  band them every working in the financial  sector again.

Why not work on the budget deficit first 1.2 trillion dollars?   Use a  vat tax, say a penny on everything from a cup of coffee to a kite,    along with spending cuts! everyone could pay a certain amount of cash on a sliding scale, all business, corporations, banks and millionaires and billionaires; to raise the money to pay off the budget deficit! then stop the tax and balance the budget! At that point they could find other ways to pay on the debt, while reducing spending. The interest saved would be a lot, the wars winding down, health care will save a lot,and go after fraud where ever they can find it.
Are you sure you want to delete this comment?
DATA PROVIDERS
Copyright © 2014 Microsoft. All rights reserved.
Fundamental company data and historical chart data provided by Morningstar Inc. Real-time index quotes and delayed quotes supplied by Morningstar Inc. Quotes delayed by up to 15 minutes, except where indicated otherwise. Fund summary, fund performance and dividend data provided by Morningstar Inc. Analyst recommendations provided by Zacks Investment Research. StockScouter data provided by Verus Analytics. IPO data provided by Hoover's Inc. Index membership data provided by Morningstar Inc.