Post-Sandy, banks waive fees
Some banks will automatically waive late and overdraft fees charged to you during the storm. Others you have to ask.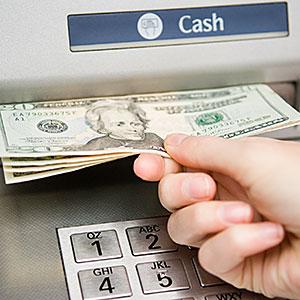 Updated Oct. 31, 2012, at 3:25 p.m. ET
In the aftermath of super-storm Sandy, one thing many people in stricken areas won't have to worry about is a late fee or overdraft fee from their bank. It makes sense, considering that many bank branches closed Monday in anticipation of the storm and remained closed Tuesday. Some were still closed Wednesday.
Some big banks will waive late, overdraft and out-of-network ATM fees for a limited time without you having to ask (but check your account later to make sure the bank followed through). Others will consider a request from you to waive fees you couldn't avoid because of the storm.
If you live in an area affected by Sandy and you don't see your bank on this list, make sure you ask your bank for fee forgiveness. Giving you a break on fees owed through no fault of your own is the least your bank can do. 
Here's what customers of the big banks can expect in the storm-ravaged states:
JPMorgan Chase will automatically waive overdraft fees for checking accounts and late fees for credit cards and other loans through Wednesday. However, customers have until the close of business on Thursday to straighten out their accounts.
Citibank is waiving fees for customers who use out-of-network ATMs. It announced on Wednesday that it will "proactively" waive fees at least through Nov. 5 for overdrafts, late payments and early CD withdrawals for recovery purposes. It also said, "If you need to use a non-Citibank ATM, please just give us a call, and we will refund any ATM fees."
Bank of America told customers it will waive fees that result from Sandy if a customer asks the bank to do so.
Capital One says it will review fee waivers on a case-by-case basis.
TD Bank says customers who are assessed late fees, overdraft fees and out-of-network ATM fees because of the storm can ask to have them refunded. "Customers may withdraw CDs without any early-withdrawal penalty to gain access to these funds, as necessary," the bank said.
Wells Fargo will waive late fees through Thursday and also non-network ATM fees.
PNC Bank will waive overdraft fees through Wednesday -- you don't have to ask -- as long as you straighten out your account by the following day, The Huffington Post says.
Sovereign Bank will refund overdraft and late fees, says Boston.com.
Considering the widespread power outages and damage from the massive storm, these bank announcements may be fluid. Check your bank's website for updates. If you're unable to make a payment or bring an account up to date because of local conditions, ask your bank to consider that.
More on MSN Money:
DATA PROVIDERS
Copyright © 2014 Microsoft. All rights reserved.
Fundamental company data and historical chart data provided by Morningstar Inc. Real-time index quotes and delayed quotes supplied by Morningstar Inc. Quotes delayed by up to 15 minutes, except where indicated otherwise. Fund summary, fund performance and dividend data provided by Morningstar Inc. Analyst recommendations provided by Zacks Investment Research. StockScouter data provided by Verus Analytics. IPO data provided by Hoover's Inc. Index membership data provided by Morningstar Inc.