What Alice from 'The Brady Bunch' could earn today
The cost of a live-in housekeeper for most families is 'out of sight.'
This post comes from Quentin Fottrell at partner site MarketWatch.

Few American families are lucky enough to have an Alice, the live-in maid from "The Brady Bunch," and with good reason: She'd cost a fortune.
While the sitcom portrayed an all-American family living in the late 1960s and early '70s, employing an actual housekeeper in 2014 would be far too pricey for most families.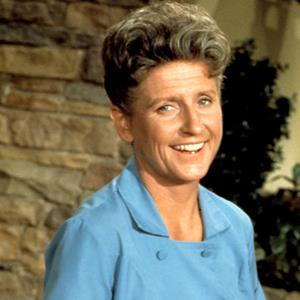 Nowadays, Alice could command a salary greater than her employer. In fact, assuming Mike and Carol Brady paid Alice the minimum wage ($1.30 in 1969), it was still an unrealistic luxury for an architect with six children (not including cousin Oliver) to employ a full-time housekeeper. But it was a sitcom, after all.
The wave of tributes after the death on Saturday of Ann B. Davis, 88, who played the wise-cracking maid on "The Brady Bunch" (1969-1974), is a testament to the comedic talents of the beloved actress, and the place a corny sitcom about a near-perfect blended family has in American popular culture. But it may also reflect nostalgia for an era when the prospect of affording a live-in housekeeper to help raise the family may not have been so, well, far out.
"It's actually shocking what a housekeeper can make," says Charles MacPherson, founder of The Charles MacPherson Academy for Butlers and Household Managers located in Toronto and author of "The Butler Speaks: A Return to Proper Etiquette, Stylish Entertaining, and the Art of Good Housekeeping." A Monday-to-Friday housekeeper/maid could earn $40,000 per year, but a formal live-in housekeeper with knowledge of table settings and etiquette could "easily" earn $65,000 to $70,000, he says.
Other organizations support these estimates: In 2014, the annual salary of a live-in housekeeper ranges from $45,000 to over $75,000, according to The Lindquist Group, a residential staffing consultancy. A housekeeper running a home larger than the split-level house from "The Brady Bunch" may include overseeing other employees, cleaning, doing the laundry, ironing, dusting, silver polishing, vacuuming and running errands. Like Alice, duties may also include child care and preparing meals.
The nation's 104 million full-time workers had a mean wage of $46,440 last year, less than the cost of a modern day live-in housekeeper like Alice, judging by those estimates. A wealthy family, however, is likely to pay far more than what maids and housekeepers earn in industrial settings like a nursing care facility ($21,360) or rooming and boarding houses ($21,550), according to data from the Bureau of Labor Statistics. And maids who don't live where they work would also have to pay for most of their own meals and accommodation.
Of course, the salary of a live-in housekeeper in a professional setting — like a hotel or assisted living home — can vary depending on the state, and they don't get anything close to what wealthier families pay. SalaryExpert.com, a website that aggregates data from over 10 million job postings, estimates that the average salary of a live-in housekeeper varies from over $20,000 per year in Miami, Dallas, Atlanta and Houston, to roughly $35,000 in Las Vegas and over $40,000 in New York. (Of course, some families pay their housekeepers "off the books," and there's no data on salaries in these cases.)
And not everyone is lucky enough to find an Alice. When recruiting, MacPherson suggests potential employers require a criminal-background check, credit history report and driving record abstract. Request a second interview at his/her residence, and conduct a personality test, says Ummu Bradley Thomas, an etiquette expert and the founder of the Freddie Bell Jones Modeling & Finishing School in Denton, Md. "On the final interview, have your children or other live-in family members gauge their opinion as well," he says.
Outline duties and hours, include a confidentiality agreement and request that the house should be a "selfie-free environment," Bradley Thomas says. Enlist a lawyer to register the family as a limited liability company to keep the housekeeper separate from the family business, MacPherson adds. "Otherwise any lawsuit could expose the business records," he says. Employing a live-in housekeeper also means becoming a landlord, he adds; if it doesn't work out, "you may have to put them in a hotel for 30 days."
While "The Brady Bunch" kids dealt with issues like freckles and puberty, it's no surprise that the fictional Alice did everything for the family from cooking to carrying armloads of laundry, says John Doyle, author of "A Great Feast of Light," a memoir about growing up with TV. "It was a fantasy family, so light and goofy in its story lines," he says. "She anchored it in some kind of reality. While you could roll your eyes at the utter escapist quality of the show, she brought it back to a real life, real person — and a real job."
More from MarketWatch
DATA PROVIDERS
Copyright © 2014 Microsoft. All rights reserved.
Fundamental company data and historical chart data provided by Morningstar Inc. Real-time index quotes and delayed quotes supplied by Morningstar Inc. Quotes delayed by up to 15 minutes, except where indicated otherwise. Fund summary, fund performance and dividend data provided by Morningstar Inc. Analyst recommendations provided by Zacks Investment Research. StockScouter data provided by Verus Analytics. IPO data provided by Hoover's Inc. Index membership data provided by Morningstar Inc.