12 ways to land lower airfares
Prices are taking off, but there are still ways to get good deals.
This post comes from Amanda Geronikos at partner site Money Talks News.

Airfares are taking off. According to Travelocity, the average round-trip domestic airfare this Thanksgiving is $386, up 9% from last year. But if you have the will, there's always a way to land an airfare bargain.
If your itinerary for travel savings begins and ends with a trip to an online travel agent like Expedia, Orbitz or Travelocity, you could easily miss out on a lower fare. You could also miss out if you confine your search to sites that aggregate fares, like Cheapflights, Kayak or Mobissimo. That's because the best fares might be available from the place many travelers neglect to check -- the airlines themselves.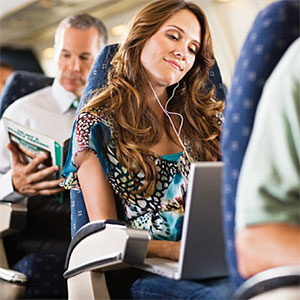 Some airlines have been offering lower prices on their websites to keep fliers from online agencies and aggregator sites. The reason is simple: They want to avoid paying commissions of roughly $10 to $25 per ticket.
Toronto-based Porter Airlines, for example, offers savings of up to 50% on its website. Southwest, the lowest-cost carrier in many markets, doesn't offer fares on sites other than its own.
At least one other airline isn't stopping with incentives. Frontier Airlines recently announced that failing to book from its site will result in half the frequent-flier miles, higher fees and no ability to get a seat assignment until check-in.
Bottom line? If your goal is the best possible deal, you might not find it with one-stop shopping.  Use an online agency or aggregator to see the options, but don't book until you also check the airline's site.
Here are 11 more tips for extra savings:
Follow your favorite airlines on Twitter and Facebook. Many airlines tweet hourly, offering information about deals and discounted fares.
Sign up for email alerts. Sign up for deal alerts to be emailed or texted to you. I get weekly emails from Airfarewatchdog to stay informed about the lowest fares out of my local airport. You can also personalize your settings so you'll be alerted when that flight to Aruba drops in price. Some other options for alerts: Smartertravel.com and

TripAdvisor.com/Flig​hts.

 
Look for discount codes. Don't ever buy a plane ticket (or anything else) without searching for a coupon code. It only takes a few seconds. Simply go to your favorite search engine and type in "(airline) promo code." And if you need them, check for promo codes on rental cars and hotels while you're at it.
Fly on less popular days and times. The least expensive flights tend to be early morning Tuesday or Wednesday. Airlines tend to charge less for the first flight out each day, and weekly price wars among airlines work in your favor on Tuesdays, Wednesdays and Saturdays.
Consider traveling in shoulder seasons. Going to Europe? Consider flying in late August or September, when prices tend to drop. Early December and after mid-April are good times to find lower fares for the Caribbean.
Consider crowdsourcing. Check a site called Flightfox, run by experts (also known as "flight hackers") who compete to find you the best flight. Finder's fees start at $24, but if you aren't satisfied, the service is 100% refundable.
Compare airports. Being picky about airports can cost you. That's why travel search engines like Kayak include a little box that says "add nearby airports." Check it and you might see lower rates. For example, we found a round-trip ticket from Miami to Los Angeles for $430 the week before Christmas, but the fare was $389 flying out of Fort Lauderdale instead.
Use your frequent-flier miles. If you're not already enrolled in a frequent-flier program, you might want to sign up for one. When deciding which one to use, consider where you'll be flying frequently and which airlines you'll travel with. Also consider what type of tickets you'll be buying and if the airline offers useful upgrades for you.
Avoid baggage fees. Choose an airline that has a low-cost or no-cost baggage policy. If you fly Southwest, you can check two bags for free. With JetBlue, you'll get one bag for free. 
Book early. Planning ahead can give you a good jump on savings. Rates start rising two weeks from the flight date, according to FareCompare.com. They recommend booking two to 12 weeks out.
Name your own price. Sites like Priceline.com let you make the price offer, but require flexibility in exchange: You don't know the airline, departure time, or layovers until you buy. You also can't earn frequent-flier miles. The price can be significantly lower than published fares, though -- up to 50% in some cases.
More stories on Money Talks News and MSN Money
DATA PROVIDERS
Copyright © 2014 Microsoft. All rights reserved.
Fundamental company data and historical chart data provided by Morningstar Inc. Real-time index quotes and delayed quotes supplied by Morningstar Inc. Quotes delayed by up to 15 minutes, except where indicated otherwise. Fund summary, fund performance and dividend data provided by Morningstar Inc. Analyst recommendations provided by Zacks Investment Research. StockScouter data provided by Verus Analytics. IPO data provided by Hoover's Inc. Index membership data provided by Morningstar Inc.