Should you tip the teacher?
Think about it: How many coffee mugs or homemade baked goods does a teacher want or need?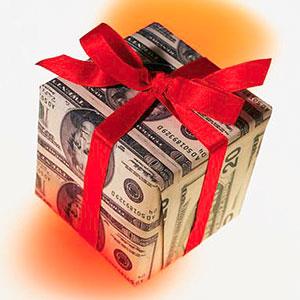 A guest writer at Get Rich Slowly decided to limit her total holiday gift giving to $1,500 this year. The only problem: The number of people she plans to tip could potentially consume most of her budget.
Her holiday tipping list contains some standard recipients -- lawn care people, baby sitters, and the person who does her hair -- and a few others that struck me as odd, particularly the 14 middle  and high school teachers who come in regular contact with her three children.
In fact, last year she gave each teacher on her list a $20 box of chocolates. This year, to reduce her overall costs, she's giving them inexpensive mugs containing hot chocolate marshmallows, biscotti, a candy cane and a thank-you note from the appropriate kid. Estimated total cost: $140.
Yet she worries that "they may notice the downgrade and who knows what might happen as a result?" (Nothing, teachers who responded said.)
Since tipping the teacher seemed unusual to me (childless by choice), I searched for guidance on what is commonly expected and what is appropriate. (Call it a gift if you will; it's still rewarding someone for a job they do.)
Some readers of Get Rich Slowly thought tipping teachers is unnecessary. One even called it "bizarre." If every kid or well-intentioned parent gave a gift like that, a teacher would be inundated with mugs and sweets every year, they wrote.
Among their comments:
". . . speaking as the child of a teacher, gifts other than cards ended up being dust catchers that were recycled/regifted by the time Christmas actually came around. A card with a nice sentiment that the KID picks out is probably a much more meaningful expression of the holidays than anything else."
"We donate money to charity in the teacher's name and then include a note in a card for the teachers explaining what we did." (To which another reader responded: "Stupid thing to do. 'OH, I'm donating to charity and get to claim the tax deduction, but it's in your name.' Teachers need cash or how about Target gift card?"
Consumer Reports said last year that 49% of people surveyed in 2010 gave a gift to their child's teacher, down from 60% the previous year. Surprisingly, a much smaller percentage said they give something to their gardener, newspaper carrier and manicurist. 
EmilyPost.com recommends, "Christmas, Chanukah, and end-of-year gifts are probably the most common times for giving gifts to teachers. Always check the school's gift policy first, and involve your child in the choice or creation of the gift if you can." Cash is never appropriate, the website says. (The recommendation is different for day care providers, where $25 to $70 for each worker plus a gift from your child is acceptable.)
So, assuming your child's school doesn't bar gifts or tips for teachers, what are some good ideas?
From KJ Dell'Antonia at The New York Times' Motherlode blog: "My favorite idea from a teacher is one that costs nothing, but definitely qualifies as priceless: a coupon for 'one class period of paying attention' signed by the class (from a commenter to the LINK 3 Edutopia blog)."
Dell'Antonia also noted comments by teachers on the Berkeley Parents Network identifying school supplies for a gift basket if parents were so inclined. That seems particularly useful because so many teachers pay out-of-pocket for what school districts used to provide. Maybe your teachers would be willing to make a list.
My favorite, from a Get Rich Slowly reader:
"As a teacher, I can't accept gifts with a value greater than $20.

 

"Further, I don't expect a gift.

 

"A thank you (even five to seven years later, which is typical) is more than enough.

 

"Actually, being there when a student has an 'aha' moment is the best thing about my job."
More on MSN Money:

Chances are, teachers won't complain or event tell administration that they recieved a cash gift.  Money is money and everybody needs it, especially teachers.  They spend more time with the children than parents typically do.  If a teacher goes to a restaurant and a parent of one of his/her students happens to be the waiting on them, I'm sure the the teacher will tip them, government employee or not.
Are you sure you want to delete this comment?
DATA PROVIDERS
Copyright © 2014 Microsoft. All rights reserved.
Fundamental company data and historical chart data provided by Morningstar Inc. Real-time index quotes and delayed quotes supplied by Morningstar Inc. Quotes delayed by up to 15 minutes, except where indicated otherwise. Fund summary, fund performance and dividend data provided by Morningstar Inc. Analyst recommendations provided by Zacks Investment Research. StockScouter data provided by Verus Analytics. IPO data provided by Hoover's Inc. Index membership data provided by Morningstar Inc.