University of Denver students critique debate
Economic concerns resonate on campus, where deficit and unemployment remain major issues.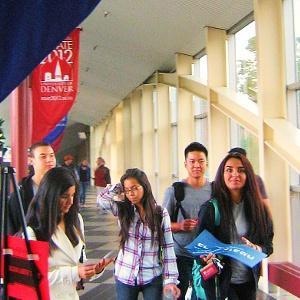 Life is returning to normal at the University of Denver after Wednesday's presidential debate there. The media crews have packed up, concrete roadblocks are being removed, and students are returning to regular class schedules. But the on-campus buzz surrounding the event has yet to go away.
"I thought it was a really great debate," said Lauren Conrad, a sophomore from Evergreen, Colo. "I thought both candidates brought forward a lot of interesting ideas, and I thought it was one of the better (debates) we've seen."
Kyle Vanderkooi, a freshman business major from Breckenridge, Colo., thinks President Barack Obama and GOP candidate Mitt Romney were very different in their economic positions. "I actually don't know who I'm going to vote for yet or which one I agree with quite yet," he said. "I'm waiting to hear the rest of the debates and make up my mind."
Other students were frustrated by what they saw as a lack of clear economic answers offered by either candidate. "To be honest," said freshman Emily Krebs of Littleton, Colo., "it just felt like two guys arguing with each other, and they were just not really getting anywhere."
Chris Udofia, a junior from Dallas, felt Romney won the debate. But he said he's still uncertain about either candidate's economic stance, "because everything that they brought up, their opponent would counter --  saying, 'That's not exactly what our plan was.' So I'm still a little confused about that."
Emmit Hoyl of Rollinsville, Colo., also felt Romney came out on top in the debate. Hoyl, 26, is a sophomore at DU studying business and has an unusual perspective on the economy.
"I was in the workforce for a while," he says, "doing manufacturing, metalwork, ornamental ironwork. And my market dried up substantially after the 2008 market drop. Housing sales were decreasing and people just didn't have much discretionary income, so I decided to come back to school."
Hoyl describes himself as a moderate Republican. He feels the national debt is one of the biggest economic issues, "especially being that my generation is going to be the one that's footing the bill for it and paying interest. I agree with Romney's assertion that it was morally irresponsible for their generation to be putting us in debt like this. And I think it's something that we're really going to struggle with as a generation to overcome."
"Just the fact that we were involved in two wars -- we're still involved in one war -- and the financial crisis of (2008) led to quite the deficit," said Sam Jay, a third-year doctoral student from Iowa City, Iowa. "We're in a very deep hole, for sure."
The stubborn national unemployment rate is also a concern on campus. One student who works at a local restaurant pointed out that several of his fellow waiters have master's degrees. And a post-college job is definitely on Conrad's mind. "I'll be graduating at a time (when) I don't know if I'm going to have to work much harder to even get a job," she says. "It just makes it that much more difficult."

But there is some optimism that the economy is recovering.
"I do believe in the market cycles," said Eric Williamson, a freshman from Blaine County, Idaho. "I feel sorry for (college) seniors right now. But I've got four years. So I'm assuming that the economy will bounce back a lot more than it already has."
LATEST POSTS
The case for breaking up the big banks
Breaking up big banks is an untested solution to the too big to fail problem that attempts to isolate and dismantle large, troubled institutions while protecting the rest of the economy.
MARKET UPDATE
NAME
LAST
CHANGE
% CHANGE
There's a problem getting this information right now. Please try again later.
NAME
LAST
CHANGE
% CHANGE
There's a problem getting this information right now. Please try again later.
Market index data delayed by 15 minutes
[BRIEFING.COM] There wasn't a lot of excitement in the stock market today and there is nothing wrong with that. After rallying in broad-based fashion on Friday, the major indices stood their ground (for the most part) amid a lack of conviction from buyers and sellers alike.

Today wasn't a case so much of the stock market going up as it was a case of some influential stocks going up to keep the major indices on a winning path. In fact, decliners were just about even with ... More
More Market News
Currencies
NAME
LAST
CHANGE
% CHANGE
There's a problem getting this information right now. Please try again later.