Economy to take center stage at presidential debate
Candidates Obama and Romney are expected to address jobs, energy, international finance and Wall Street reform.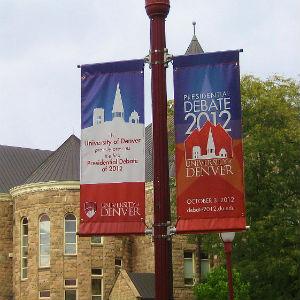 By Bruce Kennedy, MSN Money
At least half of Wednesday night's presidential debate at the University of Denver is expected to focus on the economy.

Jim Lehrer, the debate's moderator, recently announced the topics, which will deal with domestic policy. Three of the six segments will address economic issues. The debate will run from 9 to 10:30 pm ET.
Here are some topics we can expect:
Job creation, growth and employment
A recent survey of CEOs from leading companies says chief executives' overall expectations for three key economic measures -- sales, investment and employment -- have shifted downward as businesses struggle with the slow U.S. economic recovery and sluggish job creation figures.
The U.S. unemployment rate, meanwhile, continues to hover above 8%, even though more jobs have been created than lost since President Barack Obama took office. Former Massachusetts Gov. Mitt Romney has said the administration's initiatives have stymied growth, and he is expected to take aim at the employment figures.
"President Obama's administration promised, with the passage of the stimulus, that unemployment would currently be at 5.4% with 9 million more people working," Andrea Saul, a Romney campaign spokeswoman, said recently.

"With unemployment at 8% or higher for the 43rd consecutive month and 23 million Americans struggling for work, President Obama's policies have failed miserably by his own standards."
International finance
Concerns over the European debt crisis, international trade -- especially with China -- and slowing global economic growth are expected to come into play during the debate. These issues are making headlines now as financial officials from the Group of Seven prepare for next week's meeting in Tokyo ahead of the International Monetary Fund's annual gathering in the Japanese capital. The IMF's recent World Economic Outlook report declared that global finances are strengthening after suffering major setbacks in 2011 but that "downside risks remain elevated."
Energy costs
Rising energy costs are sure to come up during the debate.  Net oil imports to the U.S. have actually dropped over the past six years, but American dependency on OPEC continues to make energy a geopolitical as well as an economic issue. The Republicans also dispute the Obama administration's claim that it has doubled the use of renewable energy in the U.S. while creating thousands of jobs in the renewable-energy sector.
Reform on Wall Street
The Obama administration says that Wall Street reform has been "a top priority since day one" and that the administration has been determined to hold the financial sector accountable while increasing transparency and protecting consumers from unfair and abusive financial practices.

In a recent TV ad, Obama says Romney "believes that with even bigger tax cuts for the wealthy and fewer regulations on Wall Street, all of us will prosper. In other words, he'd double down on the same trickle-down policies that led to the crisis in the first place."
But the GOP disputes claims that Republican economic policies led to the economic crisis, and Romney says Obama's policies "have stuck the economy in a slow-growth trap."
DATA PROVIDERS
Copyright © 2014 Microsoft. All rights reserved.
Fundamental company data and historical chart data provided by Morningstar Inc. Real-time index quotes and delayed quotes supplied by Morningstar Inc. Quotes delayed by up to 15 minutes, except where indicated otherwise. Fund summary, fund performance and dividend data provided by Morningstar Inc. Analyst recommendations provided by Zacks Investment Research. StockScouter data provided by Verus Analytics. IPO data provided by Hoover's Inc. Index membership data provided by Morningstar Inc.
LATEST POSTS
The case for breaking up the big banks
Breaking up big banks is an untested solution to the too big to fail problem that attempts to isolate and dismantle large, troubled institutions while protecting the rest of the economy.
MARKET UPDATE
NAME
LAST
CHANGE
% CHANGE
There's a problem getting this information right now. Please try again later.
NAME
LAST
CHANGE
% CHANGE
There's a problem getting this information right now. Please try again later.
Market index data delayed by 15 minutes
[BRIEFING.COM] The stock market finished an upbeat week on a mixed note. The S&P 500 shed less than a point, ending the week higher by 1.3%, while the Dow Jones Industrial Average (+0.1%) cemented a 1.7% advance for the week. High-beta names underperformed, which weighed on the Nasdaq Composite (-0.3%) and the Russell 2000 (-1.3%).

Equity indices displayed strength in the early going with the S&P 500 tagging the 2,019 level during the opening 30 minutes of the action. However, ... More
More Market News
Currencies
NAME
LAST
CHANGE
% CHANGE
There's a problem getting this information right now. Please try again later.