Campaign on hold as Obama takes command
The president returns to Washington to oversee Sandy operations.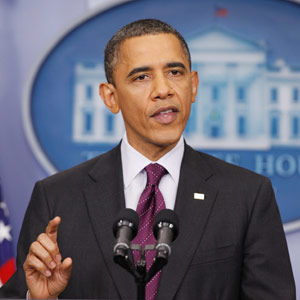 By
Eric Pianin
As Sandy began bearing down on the Eastern Seaboard early Monday, President Barack Obama canceled a campaign event in Orlando, Fla., and rushed back to Washington, D.C., to take command.
Hours later, after conferring with his cabinet and governors from the affected states, the president stood in the White House press room, declaring he was confident adequate resources and first responders were in place to deal with the unfolding crisis, while shrugging off a question about his decision to suspend campaigning just eight short days before the election.
In his dark suit and blue tie, Obama looked every bit the picture of a commander in chief taking charge of a crisis. "I am not worried at this point about the effect on the election, I'm worried about the impact on families, and I'm worried about the impact on our first responders. I'm worried about the impact on our economy and our transportation," Obama told reporters in his presidential tone. "The election will take care of itself next week."
Meanwhile, Republican challenger Mitt Romney did his best to voice concern for the 50 million Americans in the path of the storm, while announcing that he had canceled appearances in key battleground states to give Obama and others time to focus on the plight of those Americans "who are in harm's way."
Romney takes a back seat
The former Massachusetts governor has been the center of attention for weeks since his powerful first debate performance catapulted Romney into a virtual tie or slight lead over Obama in the race for the White House. But for at least the next several days, Romney will be relegated to little more than a bit player, as Hurricane Sandy plows its way throughout the Northeast -- hammering the political battleground states of North Carolina, Pennsylvania, Virginia, and New Hampshire.
At best, the violent, wide-ranging storm could have the effect of locking in place the status quo, which would mean a slight advantage for Romney in the popular vote and and a slight advantage for Obama in the all-important electoral vote contest.
RealClearPolitics' average of national polls shows Romney leading Obama by the statistically insignificant margin of 47.6% to 46.7%, while Obama leads Romney in the race for electoral votes, 201 to 191, with 146 tossups. The winner needs at least 270 electoral votes. But the freak tropical storm and Nor'easter may have presented Obama with an extraordinary, last-minute opportunity to display his management skills and political acumen in hopes of winning over undecided voters or some who have grown disenchanted with his governing style and policies.
At the same time, by making emergency declaration in eight states under the hurricane watch, the president can shower federal aid and assistance on state officials, businesses and residents. New Jersey Gov. Chris Christie, a Republican, sang the president's praises in a press conference Monday, saying Obama had called to make sure the government and FEMA had provided everything necessary. Christie appreciated the proactive call and said FEMA was doing an excellent job.

Advantage, Obama
Joe Lockhart, a Democratic communications strategist and former press secretary to Bill Clinton, told MSNBC yesterday, "I think one of the things that happened in this race with the president's poor performance in the first debate is that it elevated Mitt Romney, and the country saw them as almost equals. I think that what's going on here is that it kind of underlines the idea that we have one president and he's focused on his job."
John Hudak, a presidential and governance scholar with Brookings Institution told The Fiscal Times, "If there is a serious disaster in the next few days anywhere on the Eastern seaboard, no one talks about Romney then. Romney is no part of any story, except, of course, I'm sure he'll hold a press conference to speak on the tragedy, as anyone would do as the challenger. But all eyes are on the president."
Both campaigns appear terribly concerned about the optics of the next 48 hours, and how their candidates are perceived in their respective roles as president and challenger.  Romney was sharply criticized by Democrats for holding a press conference after the killings at the U.S. embassy in Libya, and while protests were still occurring throughout the Muslim world over an anti Islamic video made in the U.S. and politicizing the attacks. Romney accused the Obama administration of "sympathizing with those that waged the attacks" instead of immediately condemning the attacks. Monday, he made a low-key call for national unity while the eastern half of the country braced for the worst of the hurricane.
"Out of sensitivity for the millions of Americans in the path of Hurricane Sandy, we are canceling tonight's events with Gov. Romney in Wisconsin and Congressman [Paul] Ryan in Melbourne and Lakeland, Fla.," campaign communication chief Gail Gitcho said in a statement. "We are also canceling all events currently scheduled for both Gov. Romney and Congressman Ryan on Tuesday."
Eric Pianin is the Washington editor at The Fiscal Times. Subscribe to The Fiscal Times' FREE newsletter.

More from The Fiscal Times
DATA PROVIDERS
Copyright © 2014 Microsoft. All rights reserved.
Fundamental company data and historical chart data provided by Morningstar Inc. Real-time index quotes and delayed quotes supplied by Morningstar Inc. Quotes delayed by up to 15 minutes, except where indicated otherwise. Fund summary, fund performance and dividend data provided by Morningstar Inc. Analyst recommendations provided by Zacks Investment Research. StockScouter data provided by Verus Analytics. IPO data provided by Hoover's Inc. Index membership data provided by Morningstar Inc.
LATEST POSTS
The case for breaking up the big banks
Breaking up big banks is an untested solution to the too big to fail problem that attempts to isolate and dismantle large, troubled institutions while protecting the rest of the economy.
MARKET UPDATE
NAME
LAST
CHANGE
% CHANGE
There's a problem getting this information right now. Please try again later.
NAME
LAST
CHANGE
% CHANGE
There's a problem getting this information right now. Please try again later.
Market index data delayed by 15 minutes
[BRIEFING.COM] The stock market ended the midweek session on a mixed note. Blue chip listings bolstered the Dow Jones Industrial Average (+0.4%) and S&P 500 (+0.3%), while the Russell 2000 (-0.4%) and Nasdaq Composite (-0.02%) underperformed.

Equity indices began the day in the red, but wasted no time regaining their flat lines. Small-cap stocks were not as fortunate as the Russell 2000 spent the day in the red.

Upon returning into positive territory, the key indices were ... More
More Market News
Currencies
NAME
LAST
CHANGE
% CHANGE
There's a problem getting this information right now. Please try again later.